According to an introductory blog post, IoT startup Pagi has added numerous IOTA-based instruments to its data processing mechanisms. With IOTA distributed ledger protocol, "smart" devices can perform complex financial operations.
Pay with IOTA wherever you are
Pagi engineers have developed an ecosystem that enables any device that is connected to the internet to take part in financial operations. Primarily, Pagi-powered mechanisms can receive payments, customize prices and issue refunds.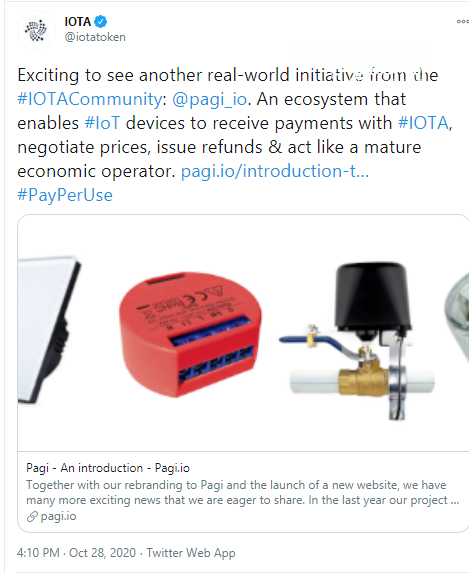 Image via Twitter
With such a toolkit of options, every scheme with IoT controllers starts to act as an independent economic actor. Pagi controls devices, from air conditioners and coffee machines to parking barriers, with single output signals.
These tasks require many secure and low-cost micropayments. Thus, the engineers decided to utilize IOTA protocol as a basic payment solution.
Now, Pagi-powered devices work without external servers. However, such a connection is available for the customization of IOTA nodes. Pagi transfers all data through encrypted TLS connections, so both information and payments are secure.
Tools by Pagi support many use cases
The Pagi team explained some basic commercial use cases for their IOTA-based solutions. For instance, everyone can sell some resources, such as water, light and electricity, charging users in an automated decentralized manner.
The owners of devices (e.g., electric vehicles) can monetize them. In comparison with traditional tools, IOTA-based automated payment gateways guarantee low CO2 emissions.
Consumption-based, time-based and action-based payments are the three most important payment types supported by Pagi systems.
To advance the user experience on its platform, Pagi is experimenting with other digital and fiat currencies. Ready-made devices will be presented to users in early Q1, 2020, while the Pro options release is scheduled for Q4, 2021.