The Filecoin (FIL) project, by legendary veterans of decentralized cloud storage solutions, is ready to roll out its mainnet iteration. Its launch is scheduled for Oct. 15. Meanwhile, Chinese blockchain expert Colin Wu claims that FIL enthusiasts should prepare themselves for much more amazing news.
OKEx and Filecoin: the start of a beautiful friendship
According to Wu, once the Filecoin (FIL) mainnet goes live, its native utility asset FIL will immediately be listed by centralized trading giant OKEx. Currently, FIL is available in the form of FIL/USDT perpetual swap contracts added by OKEx on July 22.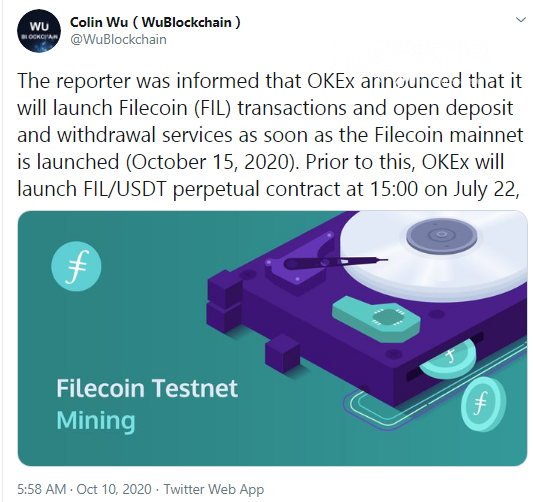 Image via Twitter
Both deposits/withdrawals and transactions on the "real" (not IOU) Filecoin (FIL) will be available on Oct. 15. Also, margin trading with up to 10x leverage is available for Filecoin traders on OKEx. Thus, OKEx may become the first major crypto trading ecosystem to provide its users with all sorts of instruments for FIL trading.
According to another announcement by Colin Wu, the Singapore-based Huobi cryptocurrencies mogul will pioneer pool-based Filecoin mining services for retail clients. Houbi Pool Mining Machine Mall will be the first entity to launch this lucrative process.
It is worth noting that Filecoin (FIL) mining is different from mining typical proof of work (PoW) coins. Filecoin (FIL) miners are in charge of providing decentralized data storage and computational power besides adding new blocks to the network.
Much-anticipated release
Filecoin (FIL) is one of promising real-world projects with roots in the 2017 ICO craze. Its tokensale raised $200 mln in a matter of hours and allowed Filecoin (FIL) to break into the Top 5 most successful ICOs.
This year, the project started "testnet initiatives." Decentralized file storage operations and mining processes were launched in testing environments.
Recently, the product team announced that the mainnet will be activated on block 148,888, which is expected to arrive on Oct. 15. According to official statements, 600 Filecoin network participants onboarded a massive 325 PiB of storage, which is equal to 1,400 copies of Wikipedia.
More than 40,000 deals on the markets of decentralized data storage systems were registered on the Filecoin (FIL) network.