Yesterday, Dec. 18, the U.S. Financial Crimes Enforcement Network released a proposal that includes recommendations regarding the regulation of crypto transactions. Numerous influential crypto market actors find the proposed measures draconian and infeasible.
KYC for $3,000 transactions, reporting for $10,000 withdrawals
The document uploaded by the official U.S. government's Federal Register highlights the importance of cryptocurrencies in the illicit transactions sphere. Based on Chainanalysis data, it estimates this part of the market to be between $10 billion and $119 billion in 2019.
To combat the use of cryptocurrencies for funding illegal activity and money laundering, FinCEN proposes to reconsider the requirements for identification and record keeping for all types of blockchain-based and crypto-to-fiat services.
Namely, all transactions greater than $3,000 should be subject to KYC checks with the verification of customers' identities, including real name and physical address.
Furthermore, all transactions that exceed $10,000 in equivalent (single transactions or a series of them within 24 hours) should be reported to FinCEN. In both cases, information about transactions, their senders and recipients should be stored by services responsible for withdrawals.
FinCEN proposals threaten bridges between DeFis and CeFis
Industry participants admit that, if passed, this rule would put at risk the interaction between centralized ("regulated") and decentralized cryptocurrencies services. Jeremy Allaire, CEO of Circle crypto corporation, claims that this rule does not apply to interaction with smart contracts: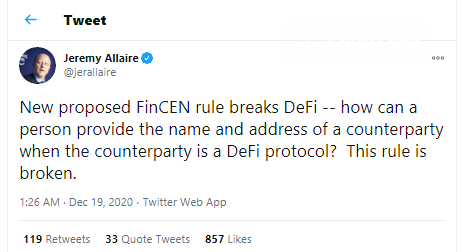 Image via Twitter
Jake Chervinsky, the general counsel of Compound, highlights that new restrictions will damage all potential integrations between DeFi protocols and custodial systems: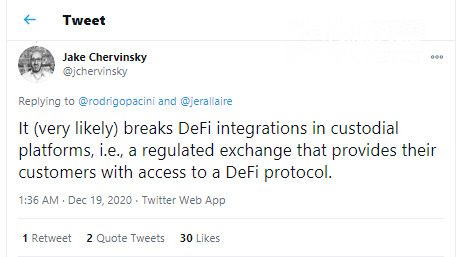 Image via Twitter
However, Erik Voorhees, founder and CEO of Shapeshift crypto exchange platform, emphasizes that the effect of the recently released document should not be overestimated:
The new requirements will be on money service businesses, as that's what Treasury has jurisdiction over. They do not have jurisdiction over a user's private keys.
Also, crypto users noticed that the majority of services have already implemented strict KYC-checks that cover the thresholds of operations volumes specified in the FinCEN proposal.