Although the main metrics of Monero (XMR) network activity are untraceable for publicly available monitoring services and blockchain explorers, its community is sure that more and more value is being transferred into XMR.
Parabolas of privacy
An anonymous Monero (XMR) proponent who goes by @FinanceRedpill on Twitter noticed a whopping increase of daily transaction value on his/her beloved blockchain. According to @FinanceRedpill, it may process $1,000,000,000 daily.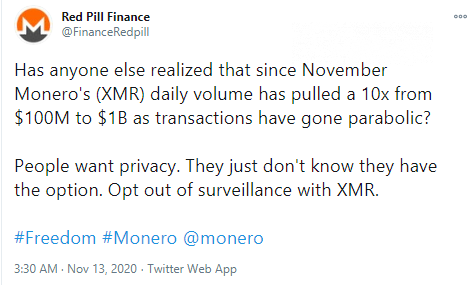 Image via Twitter
He highlighted that a 10x rally of this indicator should be attributed to people's interest in privacy-oriented solutions. Massively adopted blockchains like Bitcoin and Ethereum are failing to protect users' data from being harvested by government agencies, he adds:
Paste your Bitcoin address into http://blockchain.com. Paste your Ethereum address into http://Etherscan.io. The amount of leaked metadata and financial info is atrocious. Sure....number go up...but government regulations are going to make you wish you were invisible.
At the same time, a rapid increase in the number of Monero (XMR) transactions is verified by third-party explorers. According to Bitinfocharts, on Nov. 12, XMR processed 20,000 transactions.

Image by Bitinfocharts
One year ago, in mid-November 2019, this indicator barely surpassed 5,000 transactions per day. Thus, the usage of Monero (XMR) for privacy-oriented transactions surged four times in 12 months.
New release delivered
Also, Monero (XMR) developers announced today that new graphic user interface v0.17.1.4 "Oxygen Orion" can now be installed via auto-updater. The manuals and security instructions regarding this update are published in the main Monero (XMR) subreddit.
As covered by CryptoComes previously, this year illuminated an impressive increase in user interest in privacy-focused blockchain instruments.
Monero's success is developing hand in hand with the popularity of shielded (obfuscated) transactions in ZCash (ZEC). Both currencies allow users to hide addresses involved in transactions and the amount of value transferred.