Analysts and researchers from around the globe are trying to figure out the roots and beneficiaries of the recent unmatched Twitter hack. The "vanity addresses" (human-readable public keys in the Bitcoin [BTC] network) used by scammers contain really surprising advertising.
Not just Monero (XMR)
As unveiled by the anonymous CEO of the Ajoobz crypto experts team, who goes by @Eljaboom, a message to the cryptocurrency community was included in the public keys of the Bitcoin (BTC) addresses used by hackers.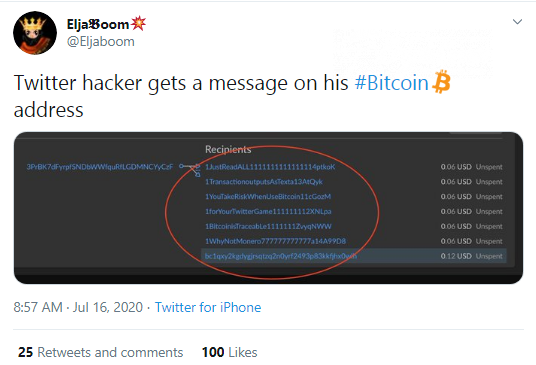 Image via Twitter
The attentive Bitcoiner could read this message as: "Just read transaction outputs. You take a risk when you use Bitcoin for your Twitter game. Bitcoin is traceable. Why not Monero?"
Daniel Larimer, CTO of the Block.one company behind EOS.IO software, highlighted that Twitter should consider using a blockchain after this attack. Also, he recalled that the EOS.IO-based social network Voice already uses blockhain.
Charles Hoskinson, CEO of the IOHK company developing Cardano (ADA) blockchain, supposes that the scale of the hack may draw the attention of social media administration to scam giveaways that target gullible crypto investors:
"Maybe social media platforms will finally pay attention to giveaway scams now?"
And what about Bitcoin (BTC)?
Legendary cypherpunk and Lightning developer, Jameson Lopp, outlined that the fact that Bitcoin (BTC) was used as a main instrument to monetize the hack has boosted interest in the word "Bitcoin" on Twitter's U.S. segment.
He claims that the flagship crypto may benefit from it:
"This is good for Bitcoin."
He has been supported by Gabor Gurbacs, VanEck's head of digital assets strategy. Mr. Gurbacs emphasized that announcements about Bitcoin (BTC)-related instruments being used by scammers may allow "tens of millions" of new people to learn about the king coin for the first time.