Monero, the flagship privacy-focused protocol, is readying for implementing its most crucial upgrade in recent months, locked and loaded with the latest software release. Meanwhile, its numerous network metrics are soaring simultaneously.
$1,000,000,000 moved via Monero (XMR) network is 24 hours
Anonymous Monero (XMR) proponent — whose Twitter handle is @monerotrader — has shared a flurry of impressive news in his latest tweet.
Particularly, he is celebrating the rocketing transactional volume that has surpassed previous highs.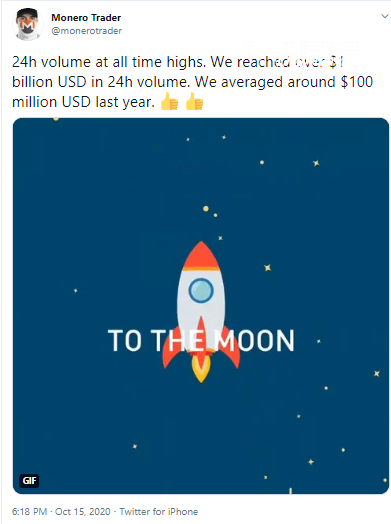 Image by Twitter
According to him, the net volume of XMR transactions in the last 24 hours entered five-digit territory. These monstrous figures showcase that Monero usage has seen a ten-fold increase since last year.
Independent analytical sources are also recording unparalleled spikes in Monero (XMR) network addresses activity. According to multi-blockchain explorer BitInfoCharts, Monero's daily transactions count has now surpassed 20,000 for the first time ever.
Image via BitInfoCharts
Furthermore, the network's difficulty almost revisited its all-times high. On Oct. 14, it surpassed 291.99 G while the record registered nine weeks ago was 294 G.
The last software release for pre-hardfork Monero
The Monero community has only a few hours left until the most significant upgrade in a long time gets shipped.
On Oct.17, a new hardfork will be activated. It will implement an efficient linkable ring signature plan — a compact linkable spontaneous anonymous group (CLSAG).
So, Monero (XMR) developers released the last command-line interface software build before hard-fork launch, CLI v0.17.1.0 'Oxygen Orion'.
As previously covered by Cryptocomes, Monero (XMR) places a tremendous amount of faith in this hardfork. The new ring signature scheme allows Monero (XMR) blockchain to process transactions much easier.
The net transactional data size is expected to decline by approximately 25 percent while verification performance will be enhanced. In Q3 2020, the hardfork software underwent a third-party security audit that was crowd-funded by the Monero community.