Typically, the performance of a digital asset indicates a strong correlation with its network activity, i.e., transactional volume, quantity of new addresses, quantity of active addresses and so on. However, this rule is not universal—even for major low-volatility cryptocurrencies.
Litecoin (LTC) prints interesting gap
Analysts at top-tier on-chain analytics firm Santiment have found a surprising discrepancy between some Litecoin (LTC) network activity metrics and its price dynamics. This process began on Sept. 3 and has still not returned to normal.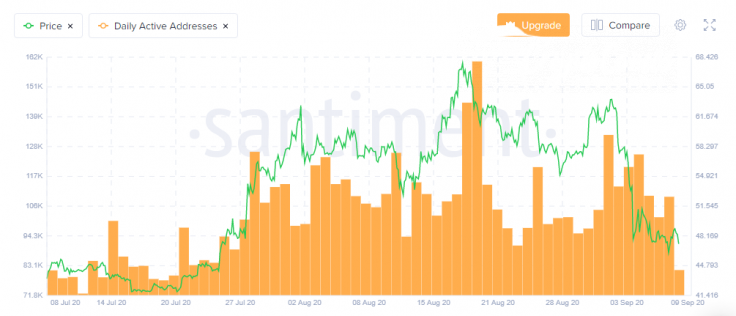 Image by Santiment
The quantity of Daily Active Addresses (DAA), i.e., the number of addresses that received or sent at least one Litecoin (LTC) transaction within seven calendar day, became decoupled from price performance five days ago. Once this metric becomes valid again, Litecoin (LTC) rates may witness a bullish reversal.
Meanwhile, this spike in network activity can be also attributed to a recent quantum leap in Litecoin (LTC) real-world adoption. The world's most popular adult website, Pornhub, has added it as one of many payment instruments.
📈 $LTC Mean Transaction Volume (2d MA) increased significantly in the last 24 hours.

Current value is 254.255 LTC (up 55.8% from 163.225 LTC)

View metric:https://t.co/fm8nJA1jkk pic.twitter.com/e5MZOw5Kr1

— glassnode alerts (@glassnodealerts) September 4, 2020
According to Glassnode on-chain data vendor, Pornhub's adoption immediately led to a significant spike in Litecoin (LTC) network activity.
Waiting for MimbleWimble
It should be noted that "Blockchain Silver" is soon to release its most crucial privacy feature of 2020, MimbleWimble protocol. It will make default transaction obfuscation available for all Litecoin (LTC) users.
As covered by CryptoComes, lead developer of the upcoming release, David Burkett, has announced that the testnet environment for MimbleWimble transactions may be activated as soon as Sept. 30.
This privacy-focused feature development is crowdfunded by the Litecoin (LTC) community and the founder of Litecoin Foundation, Mr. Charlie Lee.