Eagle-eyed participants in the cryptocurrency community are reporting new ways that the KuCoin hackers tried to launder the stolen funds. While previously the fraudsters shifted their attention to Uniswap, the leading Ethereum-based DEX, a new instrument has been disclosed recently.
All eyes on Kyber Network
Today, Sept. 28, cryptocurrencies researcher Larry Cermak reported that hackers who performed a $150 mln attack on the KuCoin centralized exchange are selling their loot on Kyber Network, the veteran decentralized trading platform active since early 2018. Governance assets of Compound Protocol (COMP) have been used to launder stolen crypto riches.
Hacker has now started dumping COMP on both Uniswap and Kyber. You can watch the live developments here: https://t.co/QM8qv1viCa https://t.co/ZIwknCPiQm

— Larry Cermak (@lawmaster) September 28, 2020
According to leading Ethereum (ETH) network explorer Etherscan, hackers have been moving small portions of their COMP holdings to Kyber Network for almost one hour. The net value transferred by the hackers surpasses 10,000 COMP, or about 1,300,000 USD.

Image by Etherscan
Taylor Monahan, founder of MyCrypto and MyEtherWallet, also spotted that Chainlink (LINK)—native tokens issued by Chainlink decentralized oracle network—is also involved in funds laundering. It looks like hackers are selling Chainlink (LINK) more aggressively.
At press time, more than $1.6 mln in LINK have already been sold, and this process continues. According to Etherscan, the entire U.S. Dollar equivalent of LINK obtained by hackers may surpass $2.1 mln.

Image by Etherscan
Laundering operations are increasing selling pressure on Compound Protocol (COMP) and Chainlink (LINK) but, due to high liquidity, the price will not be affected much, Mr. Cermak added.
Huge challenge for decentralization
Besides Ethereum-based assets, the hacker also moved some Bitcoins (BTC) obtained in the brutal attack. At press time, more than 1,000 Bitcoins (equal to 10,800,000 USD) are split between two addresses.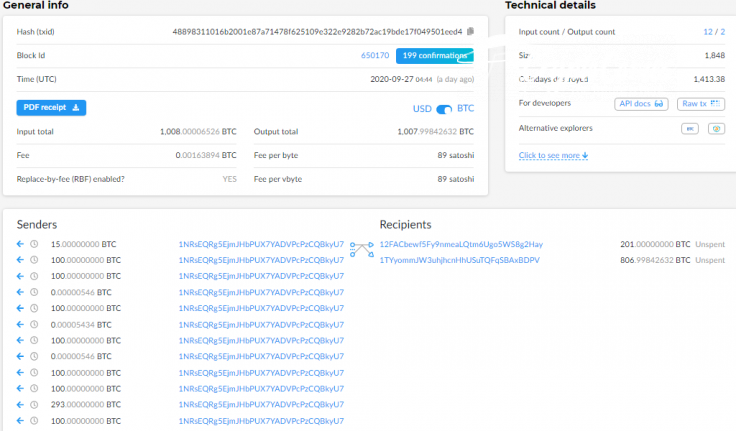 Image by Blockchair
KuCoin exchange was attacked in the early morning hours of Sept. 26. Almost $150 mln were accessed by hackers. The malefactors started to launder the money by swapping it with altcoins on the Uniswap (UNI) exchange.
Some projects, e.g., KardiaChain (KDN) even performed a token swap to eliminate tokens that may be used by scammers to launder their loot. This decision raised a heated debated about the actual level of decentralization showcased by modern crypto products.