Justin Sun, founder of Tron Foundation (TRX) and CEO of BitTorrent (BTT), announced a meaningful upgrade on the Tron blockchain mechanism. Its virtual machine activates its Istanbul update in accordance with the will of TRX enthusiasts.
Tron (TRX) Istanbul update is to be activated
In his recent tweet, Mr. Sun reported that Tron's community has approved its 44th voting request (Tron Improvement Proposal 41), at 8:00 p.m. SGT on Nov. 16. As a result, Tron Virtual Machine will start working based on the Istanbul rules.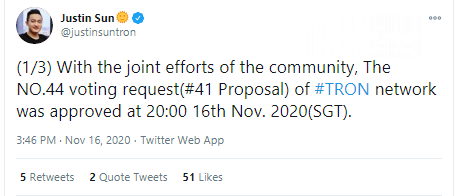 Image via Twitter
This update is crucial for Tron (TRX) ecosystem progress as it allows full compatibility between Tron and modern Ethereum (ETH). In other words, TVM becomes EVM-compatible. Thus, decentralized applications (including dApps) may migrate to Tron in a seamless, low-cost manner.
Mr. Sun emphasizes that he is sure of TVM's attractiveness in terms of performance, transaction fees and developers' experience (DX):
Relying on the low cost, high execution efficiency, and high throughput of #TRON Network, the DApp developers can develop more popular DApps and further expand blockchain application scenarios.
In the comments to his tweet, Tron (TRX) community proponents celebrated this milestone and predicted that the migration of Ether-based products to Tron (TRX) may begin soon.
Is EVM compatibility inevitable for commercial success?
Compatibility with Ethereum Virtual Machine is frequently promoted as a "killing feature" for dApps hosting platforms. For instance, Binance Smart Chain (BSC), a smart contracts environment by Binance (BNB) cryptocurrencies exchange, was Ethereum-compatible from day one.
Flare, a much-anticipated fork of XRP Ledger, will begin its operations in early 2021 and will also be Ethereum compatible.
Meanwhile, Ethereum (ETH) remains the most popular platform for decentralized applications and has no plans to surrender. At press time, it has 2,075 dApps onboarded, while its closest challenger, Tron (TRON), is home to 974 applications.