In his recent blog post, IOTA Foundation's head of Telco and infrastructure development, Dr. Michele Nati, explained how IOTA-powered mechanisms can be used for energy sharing in smart cities. Using simple devices, everyone can participate in such a marketplace.
Why do we need smart grid infrastructure in 2020?
Explaining the rationales behind this workload, Dr. Nati claimed that 40 percent of total energy demand globally should be attributed to different types of buildings. That is why the development of an efficient and low-cost system of power sharing between different buildings would help to solve crucial environmental issues.
IOTA Foundation announces the concept of an energy sharing marketplace designed for the distribution and trading of energy from solar panels or batteries. The role of data sharing infrastructure includes the broadcasting of information between buyers and sellers:
To build an energy trading platform, connected agents that control energy assets (i.e., battery storage, solar panels, etc) need a data-sharing infrastructure to post offers to sell available surplus energy (supply-side). At the same time, other agents need to post requests to buy the available energy (demand side).
In 2020, these problems should be addressed by decentralized systems due to their low-cost, peer-to-peer and permissionless manner of data transfer.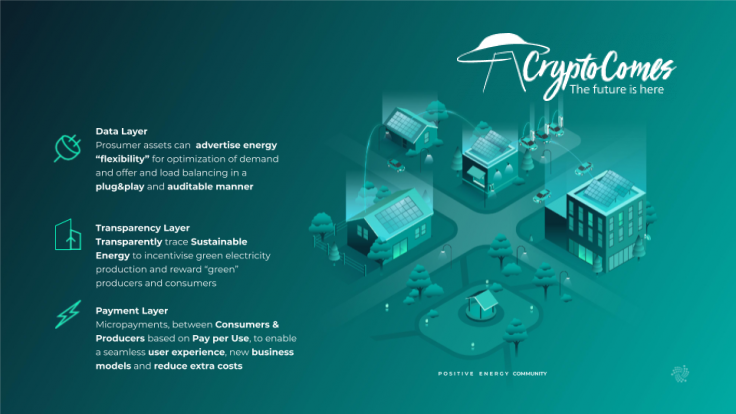 Image via Medium
The system proposed includes three layers: a data layer for the "advertising" of energy suppliers, a transparency layer for tracing energy and data streams and a payment layer for micropayments required to pay for the electricity supply.
Smart energy for smart cities: the case for IOTA's Tangle
Dr. Nati claims that IOTA Tangle, a data processing mechanism, perfectly meets the requirements of building smart energy sharing environments. It is capable of processing both value and data transactions over its infrastructure connected to the IoT devices of buyers and sellers.
Also, IOTA Streams and IOTA Access solutions may be used to protect data integrity and the security of system participants. They will both be useful in preventing the system from unauthorized access and fraudulent behavior by merchants.

Image via Medium
As a result, Dr. Nati proposes a five-phase system that tracks the energy transfer between suppliers and consumers. It utilizes the principle of the "orderbook" and indexes all requests for energy from consumers. It also measures the energy transferred and processes the payments.