Flare enthusiasts should not treat Spark (FLR) assets distributed by some exchanges as real tokens that can be utilized on the Flare blockchain once it launches. However, they are offered by platforms and, therefore, can be tradeable on them.
IOUs, not tokens
According to the announcement shared by the Flare Networks team in its latest tweets, some platforms have already started to offer "FLR tokens distribution." Meanwhile, the token does not even exist in the blockchain. Its airdrop is expected to take place in Q2, 2021.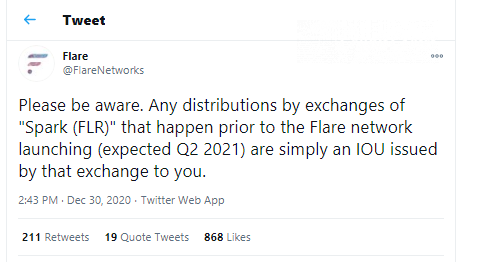 Image via Twitter
Therefore, any offerings by platforms represent IOUs issued by their organizers. Thus, Flare blockchain has nothing to do with the "redemption" of FLR-associated IOUs.
The only legitimate dissemination of Spark (FLR) tokens will take place in 2021-2022. The first batch of tokens (15 percent) will be transfererred to Spark (FLR) wallets in early-to-mid 2021. The remaining 85 percent will be received by Spark (FLR) enthusiasts in 36 months.
The distribution will be carried out in accordance with the balances' snapshot taken on Dec. 12 of all XRP wallets. Spark (FLR) tokens will be distributed in a 1 FLR/1 XRP proportion.
Beware of scammers
This snapshot was supported by all major cryptocurrencies exchanges, wallets, lending/borrowing platforms and self-custody instruments. However, only a few of them agreed to list FLR and enable its trading immediately after the airdrop.
Bitrue XRP-focused exchange was the first platform to offer FLR-pegged IOUs.
Meanwhile, many crypto scammers decided to benefit from the hype around Flare's launch. Numerous fraudulent tokens impersonating FLR are offered on Uniswap.
Also, scammers charge gullible investors with 0.9 ETH to let them join a "secret airdrop" allegedly organized by Flare Networks CEO Hugo Philion. All of these offers are blatant scams and can solely result in the loss of all assets invested.