The majority of top-tier centralized exchanges confirmed that they would support Spark (FLR) on Dec. 12. Meanwhile, at least one service is ambitious enough to share its plans of a much broader integration with Flare. Bitrue becomes the first liquidity gate for FXRP, a core asset of the Flare (FLR) family.
Bitrue announces Spark (FLR) trading launch, confirms FXRP listing
According to the latest announcement by the Bitrue exchange, its XRP holders will be able to trade their Spark (FLR) tokens shortly after the airdrop. The distribution of the first batch of FLR is scheduled for early-to-mid 2021, and Bitrue will meet this much-anticipated event locked and loaded.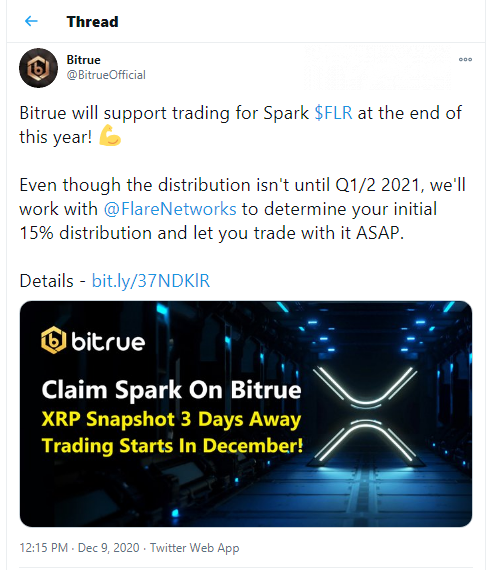 Image via Twitter
The company will "pre-determine" the amount of Spark (FLR) reserved for each XRP holder by the snapshot and attribute these coins to them. At the beginning, FLR will be tradeable against XRP.
However, withdrawals and deposits of FLR will only be available after the first phase (15 percent) of the actual airdrop takes place.
Also, Bitrue is the first exchange to announce the listing of FXRP, "a form of XRP" suitable for DeFi purposes and minted on Flare blockchain. The exact time frames for this listing are still under discussion, but Bitrue representatives are certain that it will follow soon.
Hugo Phillion, CEO and cofounder of Flare Networks, the development team behind Flare, highly praised the efforts of Bitrue:
We look forward to building out the Flare network and the XRP ecosystem with Bitrue. Part of that utility includes the FXRP token and its trading on which we are very pleased to partner with Bitrue.
Final countdown to snapshot
The global cryptocurrencies community has only three days left before the snapshot of XRP balances required for Spark (FLR) distribution. XRP Army soldiers can move their riches to supporting exchanges before Dec. 12.
Flare, a programmatic Turing-complete blockchain that promotes itself as an "XRPL utility fork," will harness XRP liquidity using the power of Ethereum-compatible smart contracts. To incentivize XRP users to join Flare, its organizers airdrop Spark (FLR) tokens for free.
The first DeFi ecosystem, Flare Finance, and pioneering staking provider for FLR and FXRP—Scandinodes—have already shared their plans to leverage the opportunities of this overhyped blockchain.