An airdrop of Spark (FLR) tokens for holders of XRP gains support of one more large-scale service. CEX.io, a U.K.-based crypto-to-fiat exchange, now allows its clients to claim Spark (FLR) seamlessly.
CEX.io will assist XRP holders in claiming Spark (FLR)
According to the latest tweet by Flare Networks, their FLR airdrop for XRP holders is now supported by CEX.io. Launched in 2013, this crypto exchange with fiat paygates is particularly popular among XRP traders.
Image via Twitter
Thus, XRP holders onboarded by CEX.io will claim Spark (FLR) tokens in one click. CEX.io allows XRP trading against major fiat currencies, including USD, EUR and GBP, as well as against Bitcoin (BTC) and the U.S. Dollar Tether (USDT) stablecoin.
Also, Flare Networks reached an agreement with top-notch Japanese banking giant Bitbank. As a result, 12 leading cryptocurrencies exchanges in Japan that operate under the Bitbank umbrella are planning to support FLR distribution.
The approval of local watchdog Japan Virtual Currency Exchange Association (JVCEA) allows exchanges to distribute Spark (FLR) before June 12, 2022.
60+ services support Spark (FLR) airdrop
With the newest announcements, the club of Spark (FLR) airdrop supporters now has more than 60 services listed. According to infographics by XRP community activist Dario Šuveljak, the airdrop is supported by 50 crypto exchanges, 10 wallets and three multi-purpose financial institutions.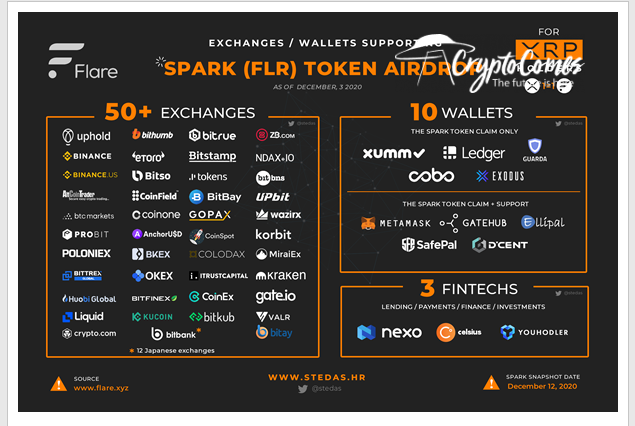 Image by Stedas
As covered by CryptoComes previously, the Spark (FLR) token airdrop obtained a support of the most influential crypto institutions in the last days before the decisive snapshot of XRP balances.
For instance, OKEx and Huobi announced participation in the program on Dec. 2, almost simultaneously. In late November of this year, Binance and Bitstamp confirmed that their XRP holders can also claim Spark (FLR).
The snapshot of XRP balances required for Spark (FLR) calculation will be taken on Dec. 12 at 12:00 a.m. UTC. The first FLR tokens will be sent to its owners in early-to-mid 2020.