The pioneering decentralized cryptocurrecnies exchange focused on derivatives trading, Serum DEX (SRM), has announced that it is finishes another phase of its community program. Liquidity providers were rewarded with the third batch of SRM tokens.
Third SRM airdrop is finished
According to a recent tweet shared by the Serum DEX team, another portion of SRM tokens has been airdropped to yield farmers (liquidity pool participants). Solana (SOL) explorer showcases that the account involved in this activity has 850,000 SRM tokens stored.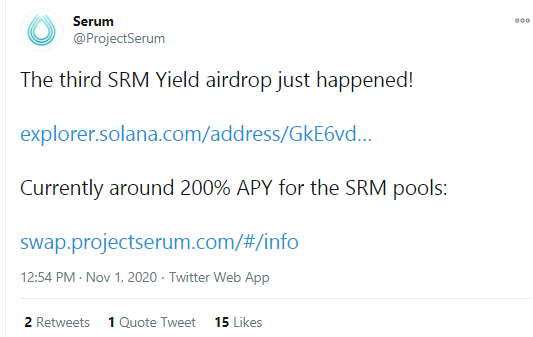 Image via Twitter
At press time, Serum (SRM) is changing hands at $0.98, so about $830K in SRM equivalent were distributed in a generous airdrop.
Also, Serum highlighted that its liquidity providers can now enjoy up to 200 percent in annualized yield. Moreover, by working with the "Swap" dashboard of Serum DEX, the pools with the four riskier assets, Yearn.Finance (YFI), Chainlink (LINK), SushiSwap (SUSHI) and Frontier (FRONT), offer even more lucrative yield rates.
In total, 56 pools are active on Serum DEX right now, with USDC/SRM, USDT/SRM and SRM/SOL the most liquid among them.
Serum DEX is experimenting with reward models
Recently, Serum DEX also launched a partnership airdrop with TomoChain (TOMO), a high-performance corporate blockchain.
Participants in the SRM/TOMO liquidity pool can receive an extra bonus calculated in TOMO tokens. One hundred thousand TOMO ($53,000) have been allocated for this airdrop.
As covered by CryptoComes previously, Serum DEX was launched by Sam Bankman-Fried of FTX crypto exchange in late August. It is the first DEX based on Solana (SOL) blockchain and the pioneering crypto contracts DEX.
On Oct. 11, Alex Kroeger, the 0x (ZRX) data scientist revealed that the point of centralization may be hidden in the serum DEX (SRM) architecture.