Ethereum (ETH) is rarely named among privacy-focused networks like Monero (XMR) or ZCash (ZEC). For this reason, the Secret Ethereum Bridge delivered by Secret Network looks like a pioneering instrument.
Secret Network will host "secret" clones of Ethereum-based assets
Secret Network (SCRT), a blockchain that has its smart contracts (state, inputs and outputs) obfuscated, shared details of an upcoming integration with Ethereum. Both Ether and ERC-20 holders can use its Secret Ethereum Bridge to move and sell "clones" of their Ethereum-based assets minted on Secret (SCRT).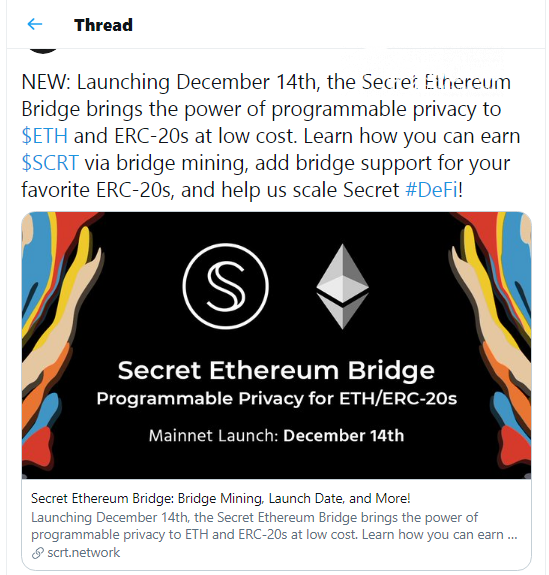 Image via Twitter
The inaugural release of the Secret Ethereum Bridge solution will go live on Dec. 14. Users can transact synthetics of Ethereum-based assets in a private and secure manner. According to the Secret Network team, all transactions with "secret" tokens will be low cost.
The authors of the protocol underline that the new feature is crucial for the privacy and integrity of the segment of decentralized financial applications (DeFis):
This is not only a huge improvement for privacy-conscious users of Ethereum and DeFi applications; it's a critical step along our path to building a more secure, more accessible and more usable global open financial ecosystem.
Since its launch in September of this year, Secret Network has proudly onboarded 48 blockchain validators out of a maximum of 50 nodes. Ethereum integration is the first step toward cross-blockchain scalability for this privacy-oriented product.
Secret AMM and staking instruments will be available for SCRT holders
The Secret Network team also shared the plan to launch its own DeFi instruments, starting with automated market maker, Secret AMM. Holders of SCRT, a backbone native asset of the Secret Network, will be able to provide liquidity to Secret AMM and receive a passive income.
The first batch of assets available for LPs in Secret AMM will include secretETH and secretSCRT. Furthermore, holders of SCRT will be invited to exchange their crypto on the frontrunning-resistant DEX.
Also, after the launch of Secret Ethereum Bridge, the "bridge mining" feature will be activated. Users will receive SCRT-based rewards for locking their assets.
To ensure the security of staking, Secret Network has partnered with top-level staking entities, namely Figment, Staked and B-Harvest.