The second-largest cryptocurrency, Ethereum, has surpassed the price mark of $3,500, according to data provided by the CoinMarketCap analytics website.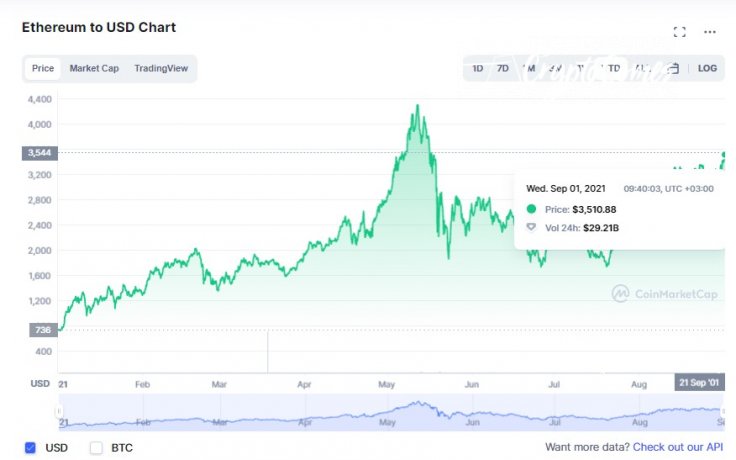 Image via CoinMarketcap
Ethereum recaptures $3,500
This level has not been seen since the middle of May. On June 26 and July 20, Ethereum declined to a $1,700 low but has now managed to recover.
The Ethereum price started growing after the EIP 1559 upgrade was implemented on Aug. 5. This event, also known as the London hard fork, now allows burning part of Ethereum fees. Well over 100,000 ETH have been destroyed since the fork's implementation.
ETH balances on exchanges slump
According to the South Korea-based CryptoQuant data vendor, Ethereum reserves on centralized crypto exchanges have seen a major decline. The amount of Ether stored in exchanges' wallets totals 19.05772 million coins as of Aug. 20.
Ethereum reached the all-time high of $4,362 on May 12 and has been down 19.46% from that level since then. The current circulating supply of Ethereum equals 117,341,190 coins. At the time of writing, the cryptocurrency is changing hands at $3,525, showing a 9% increase in the past 24 hours.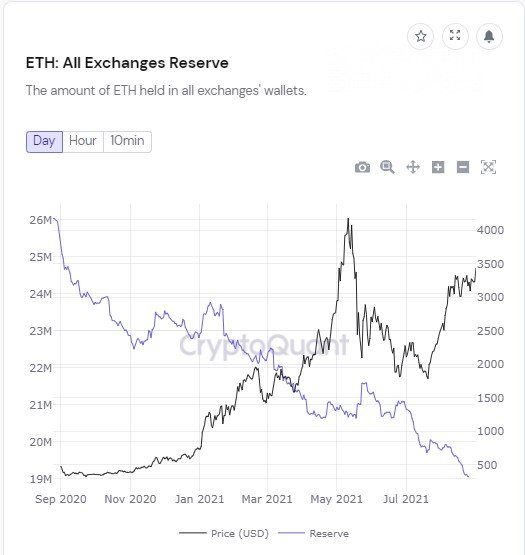 Image via CryptoQuant