The Ethereum (ETH) network saw an impressive upsurge in miner fees in Q2, 2020 due to increased use of block space and skyrocketing transaction figures.
Systematic advantage
Anthony Sassano, an Ethereum (ETH) contributor, host of Into the Ether podcast and co-founder of the EthHub educational community unveiled statistics on Ethereum (ETH) and Bitcoin (BTC) network fees. These statistics are tracked by the Glassnode on-chain data vendor.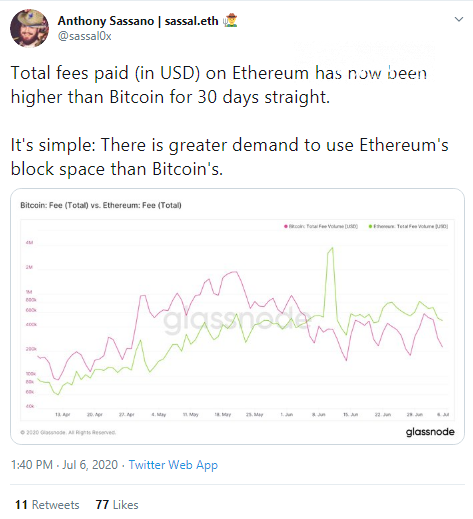 Image via Twitter
According to the chart posted in a tweet by Mr. Sassano, Ethereum (ETH) surpassed Bitcoin (BTC) on June 6th, 2020, and has managed to stay above its rival for thirty days. At press time, Ethereum (ETH) miners are still collecting much larger rewards than their competitors from the flagship cryptocurrency camp.
During the second week of June, a series of insane seven-digit transaction rewards contributed to Ethereum (ETH) superiority. While it is still unclear who is responsible for these unusual transactions, they made the total Ethereum (ETH) fee statistics skyrocket.
According to Mr. Sassano, this is an amazing statistic for the Ethereum (ETH) realm since it proves that interest in the Ethereum (ETH) block space is way higher than the demand for that of Bitcoin (BTC).
Variety of reasons
This splendid Ethereum (ETH) superiority has many reasons. Firstly, the Ethereum (ETH) network is a nucleus for the expanding decentralized finance sector. DeFi transactions may be behind a significant share of these fees.
Also, many Ponzi schemes, i.e. MMM Crypto and Forsage, use Ether-based stablecoins as instruments of payments and rewards. This has already resulted in an upsurge in the median gas price and a reduced network speed.
Lastly, Mr. Sassano outlined that Ethereum (ETH) saw more scalability solutions released in the past month than it did in the whole history of Ethereum (ETH). The launch of the Matic Network and the migration of Bitfinex USDT transactions to OMG Network Plasma infrastructure support this claim.