A brand new noncustodial solution for investment portfolio management dHEDGE is deployed to mainnet. It allows managers and investors to interact in a peer-to-peer manner by leveraging the opportunities provided by Ethereum (ETH).
First iteration is live
According to the official statement by the product team, the inaugural version of dHEDGE protocol is live in the mainnet version. Also, DHT, a native governance asset of the platform, is available for operations.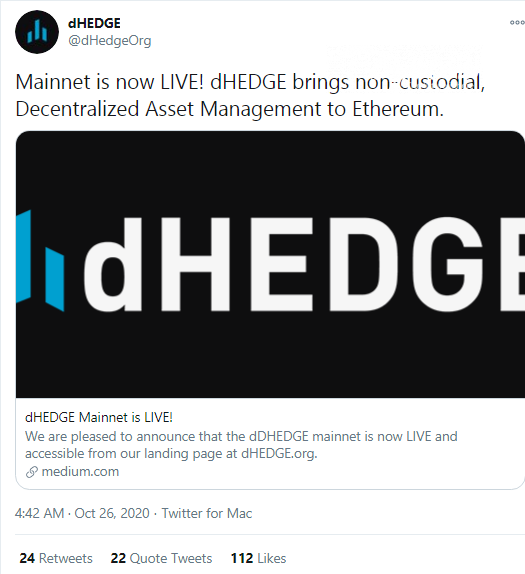 Image via Twitter
The platform is tasked with totally decentralized portfolio management, in which investors can use trading strategies by top experts without moving their funds into custody.
sUSD, a synthetic digital asset pegged to the U.S. dollar, serves as the main reserve currency within the protocol. At the moment, the dHEDGE team recommends that interested investors obtain it on the 1Inch decentralized exchange.
Investors will be provided with all necessary information about managers' performance and the identity and structure of assets under management. Meanwhile, the more data that a manager discloses, the more attractive investors he/she will be able to reach.
Performance mining to come soon
All performance fees will be paid in platform tokens, but managers are able to customize the rate of the commissions they charge their "followers" with.
More features will be released in the coming months. For instance, participants in the protocol will be able to receive DHT tokens through performance mining—a unique income program.
Also, the dHEDGE team published the results of a third-party audit of its protocol performance and security. It has been prepared by seasoned smart contracts security vendors Iosiro, based in South Africa.
Launched in July 2020, dHEDGE is backed by top investment conglomerates, such as Three Arrows Capital, Blocktower Capital and Framework Ventures.