A gargantuan sum of 524,288 Ethers is required by the ETH2 deposit contract to open a new era in the history of the second most popular blockchain. At current prices it is equal to almost $242 mln. How would such a monstrous concentration of Ether supply affect its price? Economist and investor Raoul Pal, cofounder of Real Vision Group media conglomerate, attempts to find an answer.
Is that chunk too big?
Mr. Pal admitted that Ethereum 2.0 Phase Zero (Beacon Chain) launch will be a meaningful event for the crypto segment. The economist indicated the incredible ETH price spike as an obvious effect of this concentration.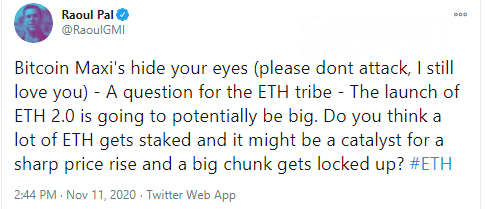 Image via Twitter
The influence of a very big chunk "locked up" amidst a hypothetical price run is uncertain although necessarily very powerful. Thus, Mr. Pal asks the global Ethereum (ETH) community to share its opinions about these processes and events. He also admitted that he owns Ether.
Ethereum (ETH) enthusiasts confirmed that a price spike may be in the cards. Investor Ryan Sean Adams, founder of Bankless educational resource, admitted that every 32nd ETH staked will act like a bond for a new type of economic system.
Yes. But not in the way ppl think. Eth staking will lock .5 to 2% of ETH supply, but most from ETH holders who would have held anyway. Bigger catalyst: ETH becomes an Internet Bond, a non-sovereign bond for a decentralized economy. $57t market.
Investor and entrepreneur Tyler Smith of ConsenSys also allows for the possibility of an impressive Ether price move for ETH2 tokenomic reasons:
I don't believe a large percent lockup of ETH is what will happen in the short term (Phase 0). But I do believe the market has significantly discounted ETH due to delays in shipping ETH2.0.
Skeptics are on high alert
The discussion initiated by Raoul Pal attracted the attention of those blockchain experts who are pessimistic about the Ethereum 2.0 rollout.
Decred (DCR) community speaker Checkmate (@_Checkmatey_) foresees that Ethereum (ETH) proof of stake (PoS) and proof of work (PoW) blockchains will coexist for years, so their assets (different coins) will be decoupled. Thus, he treats the allocation of Ether as one more potential source of inflation.
Legendary cypherpunk Adam Back, CEO of Bitcoin development studio Blockstream, compared all Ethereum efforts to a Theranos scam and mentioned Tron (TRX) and XRP in the same league. He called them "digital pyrite, new-flow coins with billion pre-mine marketing budgets."
At press time, Ethereans have transferred 55,681 ETH to the deposit contract of Ethereum 2.0, or 10.7 percent of the required sum.