API3 (formerly Honeycomb) is a blockchain development startup that addresses the sphere of oracle-based data broadcasting. Its team has shared news of a closed seed funding round.
$3 mln raised from flagship investors
On Nov. 12, it was announced that the API3 blockchain development team has successfully closed its seed investments round. Well-known Placeholder VC investing fund, founded by Chris Burniske and Joel Monegro, was a leader of the funding campaign.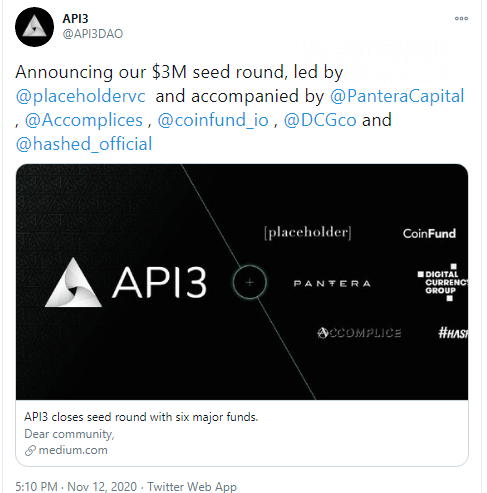 Image via Twitter
Placeholder was accompanied by thd undisputed leaders of blockchain-focused venture investments, i.e., Pantera Capital, Accomplice, CoinFund, Digital Currency Group and Hashed.
In July of this year, API3 (under its previous name, Honeycomb) also raised investments from Emurgo within the framework of its dLab accelerator program. Thus, the Emurgo team was among the first to celebrate the crucial milestone achieved by its partners:
#EMURGO is so proud to have invested in API3 (formerly honeycomb) as part of our dLab #blockchain accelerator with SOSV. Congrats, @API3DAO on closing your $3M funding round!
According to the official announcement, the company raised $3 mln in exchange for 10 mln of its native assets, API3 tokens. This portion of the token is frozen for two-year vesting and constitutes 10 percent of the total API3 supply.
Are the days of Chainlink's supremacy numbered?
Also, 20 percent of tokens will be allocated for public sale whilst 5 percent will be used in the Governance Partner Distribution program. The Mesa DEX has been chosen as an environment for public tokensale.
API3 is building complex systems to empower smart contracts with data from decentralized oracles. The team marketed itself as the first-ever "API Marketplace of smart contracts."
Instruments by API3 are called "Airnodes" and can significantly improve the performance and user experience of many blockchain-based products.