Elon Musk, the renowned Tesla chief, has given the DOGE community another reason to be pleased with their coin as the entrepreneur predicted DOGE dominance over the global financial system in the future.
Some believe this tweet to be the reason why DOGE rose around twenty percent today.
Musk on DOGE taking over: 'It's inevitable'
The Tesla CEO, who is known for his modest interest in crypto and his unexplained love of Dogecoin, has again taken to Twitter to post a meme about DOGE.
In it, he predicted that in the future DOGE will take over the global financial system.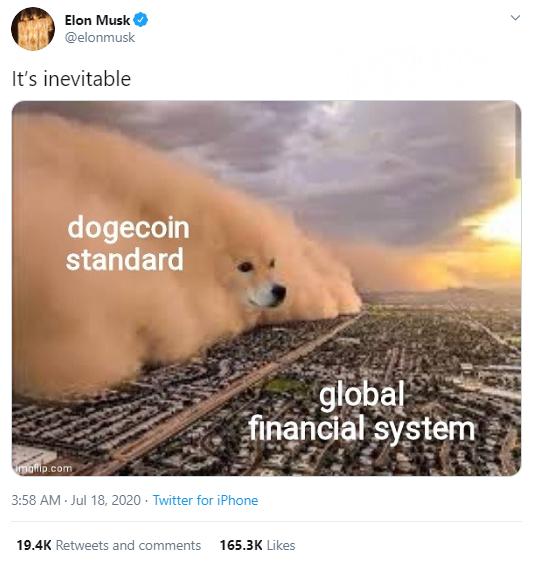 Image via Twitter
The crypto community, including some of its high-profile members, immediately responded, appreciating the joke and another mention of the coin. Recently, it printed a massive price surge after some viral videos made their appearance on TikTok.
Elon Musk is famous for mentioning cryptocurrencies – mainly Bitcoin, Ethereum – in his tweets from time to time. However, his favourite coin seems to be DOGE and in the past he was for a couple of days chosen as the DOGE new CEO.
Musk believes that in the future crypto could become a substitute for cash, but he does not see it as a global data base (probably that's what he meant when stating that Bitcoin was not his safe word).
He also owns 0.25 BTC.
Not in a rush to sell Tesla cars for DOGE
Some Twitter users in the comment thread jokingly offered to buy a Tesla vehicle but they wanted to pay with DOGE for it, including the former US Congressional candidate and now a crypto educator David Gokhshtein.
However, Musk did not respond. Previously, CZ Binance also offered crypto as payment for a Tesla car but back then in was BNB.
'I don't think $DOGE is done', says crypto analyst, as coin pumps 20%
Today, the price of DOGE surged around 20 percent, which coincided with the time Musk posted the DOGE meme on Twitter.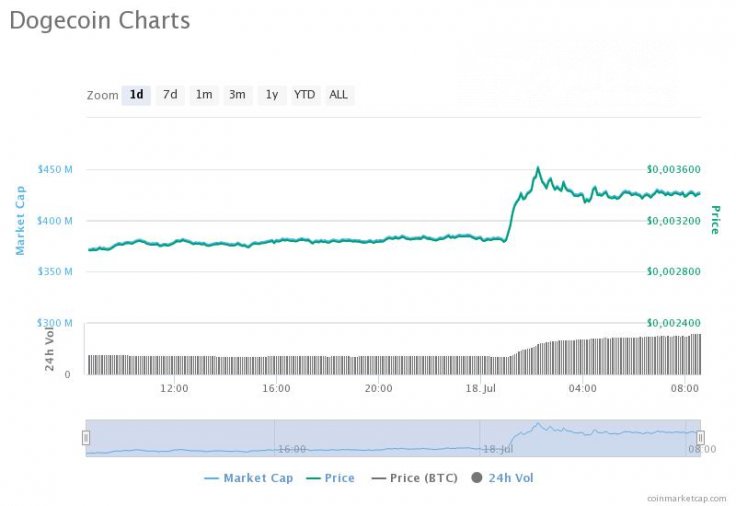 Image via CoinMarketCap
Prominent analyst based in Amsterdam Michael van de Poppe, who has become keen on altcoins recently, has shared a DOGE coin chart on his Twitter page.
The analyst expects DOGE to rise to the 0.00000044 BTC level ($0.0040) from the current price of 0.00000036 BTC.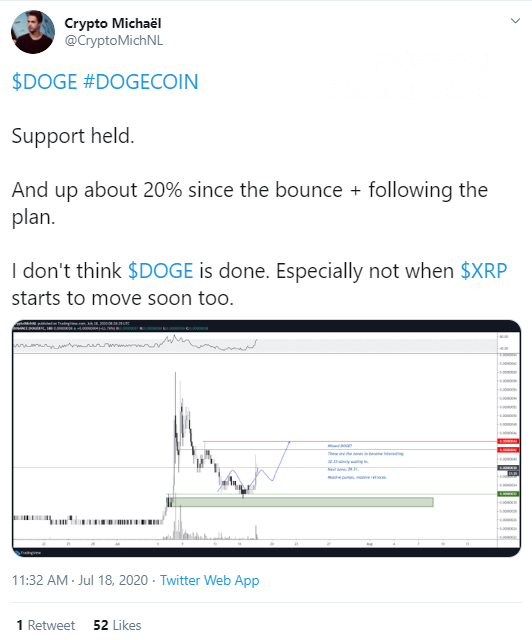 Image via Twitter