Analyst Qiao Wang has tweeted that at the moment DeFi products are outperforming centralized applications in terms of attracting more clients by offering them a better user experience.
He called the current user choice shift towards DeFi an inflection point.
"DeFi products leapfrogging centralized ones"
The analyst took to Twitter to sing the praises of DeFi, arguing that decentralized apps from the financial sphere are leapfrogging centralized apps thanks to the better user experience that DeFi platforms offer.
Qiao Wang mentioned several factors, including better privacy and security and higher yields. This is the only flippening that matters, he stated.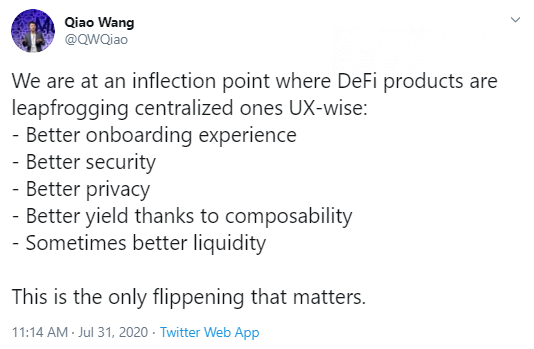 Image via Twitter
Criticism from community leaders
Not all in the crypto community seem to agree with that position on DeFi apps, though. The CEO of ZenGo wallet, Ouriel Ohayon, tweeted that for every good DeFi app there is a bad one.
He assumed that Wang is pro-DeFi and is not objective since he did not mention this balance.
For every better in Defi there is a counter party worse. cheerleading without balance is not really helpful...
To that Wang responded that he is as critical of DeFi as anyone else.
Podcaster Udi Wertheimer responded to Wang as well, reacting to each of the DeFi advantages mentioned in the root tweet. As a counterargument to Wang's comment about "better onboarding," Wertheimer stated that Metamask, for example, is hardly easier to use than email and a password.
Wertheimer also expressed doubts about DeFi apps having better privacy and security. The podcaster stated that he is more than familiar with DeFi and is honestly trying to understand Wang's position in his tweet but cannot agree.