Decred (DCR) is a Bitcoin-like blockchain with hybrid proof of stake/proof of work consensus. Launched in 2016, it is referred to as an undisputed decentralization veteran. With the new release, it attempts to leverage the red-hot segment of decentralized financial protocols.
DCRDEX, first Decred-based DeFi, goes live in mainnet
According to the official announcement shared by the product team in their recent tweet, DCRDEX, a noncustodial cryptocurrency exchange, has gone live on mainnet. The inaugural release includes binaries for Windows, MacOS and Linux.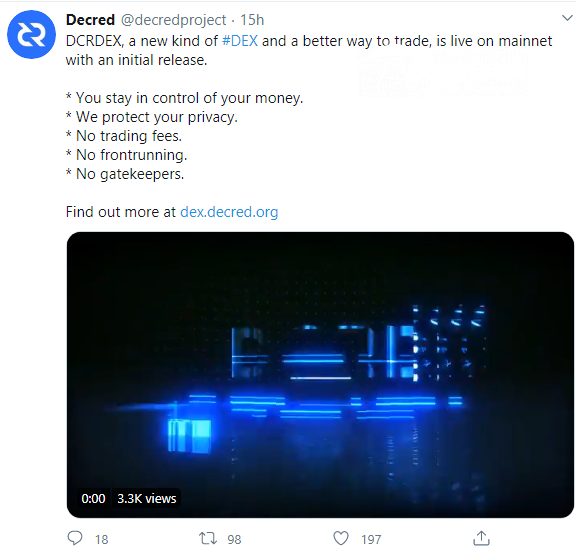 Image via Twitter
In its initial version, trading pairs with Bitcoin (BTC), Litecoin (LTC) and Decred (DCR) are available. Product contributors are certain that Ethereum (ETH) and Bitcoin Cash (BCH) can be added incrementally in coming iterations.
Trading on DCRDEX is based on atomic swap technology. The concept of atomic swaps is based on a noncustodial peer-to-peer interaction between different blockchains. It should be noted that Decred (DCR) was the first ever to finalize the atomic swap (DCR/BTC) three years ago.
As covered by CryptoComes recently, Monero (XMR) privacy-focused blockchain is also looking at XMR/BTC atomic swaps implementation. Its passionate community has raised more than $330,000 to support this novelty.
"A better way to trade"
This is the motto of the newly-launched DEX. According to the project team, it guarantees an unparalleled level of user privacy: no registration or KYC verification is required for traders.
DCRDEX charges users with zero trading fees. Its smart algorithms eliminate the possibility of frontrunning or any other sort of market manipulation. Also, the DCRDEX team released detailed documentation so that any developer can feel free to add his own asset in a Uniswap-like manner.
Furthermore, recently Decred (DCR) launched Lightning payment networks to deal with scalability issues. As with Bitcoin (BTC), it enables payment channels to reduce pressure on the main chain.
Following this announcement, the Decred (DCR) price surged 10.1 percent. Now the asset is changing hands at $13.43 on the main spot exchanges.