Chainlink (LINK), a blockchain oracle infrastructure vendor, is going to be an official oracle provider of ETHIndia Online and EthPunk 2021, two much-anticipated events for the Ethereum community. But what is special about this partnership, and why is it so sensitive for the decentralized segment?
When exclusivity meets decentralization
API3 DAO, a start-up tasked with building APIs for blockchain-based systems, has dropped a bombshell with its recent announcement. According to the announcement, the team was forced to postpone its hackathon. The competition was scheduled as a part of EthPunk 2021 in Q1, 2021.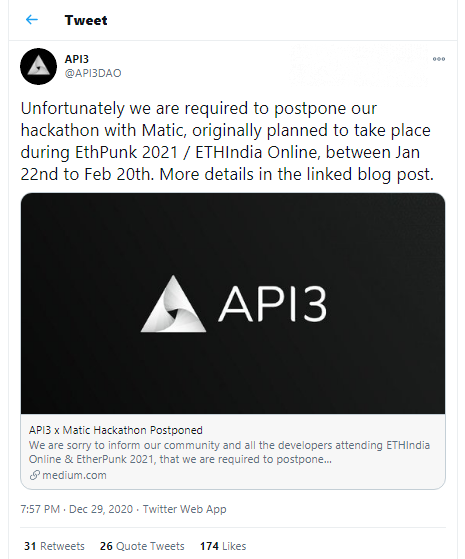 Image via Twitter
API3 planned to cohost the hackathon with Matic Network (MATIC), an Indian project addressing Ethereum (ETH) scalability. However, Chainlink (LINK) bought the exclusive rights to act as oracle provider on EtherPunk 2021.
That means that no oracle provider is allowed to host events, advertise itself or introduce bounty programs as part of the EtherPunk 2021 hackathon.
API3+ Matic solutions did not plan to rely on Chainlink (LINK) infrastructure, so their event has been postponed. The new date will be announced soon by the API3 team.
Blockchain: ethos or business?
The API3 DAO team underlined that, unfortunately, such "exclusivity" strategies are not implemented only in hackathon sponsorships:
These monopolistic practices involving off-chain exclusivity agreements are not limited to events like hackathons, and even extend to some smart contract platforms' rights to employ and/or promote oracle services competing with the interests of the party proposing such agreements, in return for financial compensation.
Speakers for the crypto community slammed this approach by Chainlink (LINK). Prominent analyst and investor Chris Burniske stressed that this damages the entire ideology of crypto:
#Chainlink employing exclusivity contracts (...) is counter to #crypto's open ethos.
Analyst Adam Cochran of Metacartel Ventures also criticized this practice:
That's dirty. If you're the best product win by being the best product. If you have to silence someone you aren't half as good as you think.
Ari Paul, cofounder and chief investment officer of BlockTower Capital, added that the organizers of the hackathon share responsibility for the incident with Chainlink: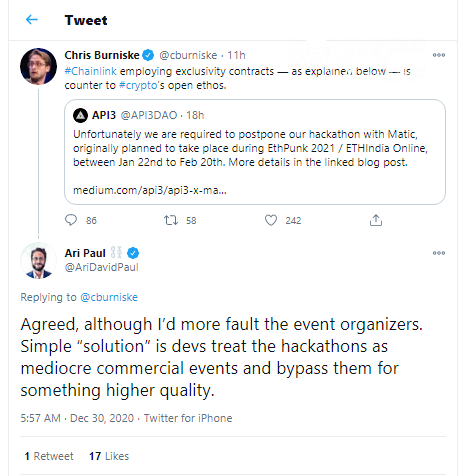 Image via Twitter
Meanwhile, Link Marines, an aggressive community of Chainlink (LINK) supporters, has already accused competitors from Band Protocol (BAND) of hyping the incident.