Brad Michelson, marketing officer of the eToro trading ecosystem, shared a sample of a promoted tweet about the fraudulent nature of the Chainlink (LINK) project. It's no wonder that it came from the shady Zeus Capital LLP.
Beware of Russian "Pump-and-Dump" schemes
In a very strange tweet that is still available on Zeus Capital LLP's main account, the analysts appeal to the most powerful American regulator in the crypto segment, the U.S. Securities and Exchange Commission (SEC).
Zeus Capital LLC publicly claimed that Chainlink's (LINK) decentralized oracle system is a Russian "pump-and-dump" scheme and that the U.S. SEC should protect American citizens from its damage. Critics of Chainlink (LINK) recall news articles about infamous "pump-and-dump" frauds related to Russia that have been disclosed during the last three years.
"Anyone else getting absolutely astroturfed with these anti-$LINK ads?" pic.twitter.com/vbVH18SKIP

—Brad Michelson (@BradMichelson) July 23, 2020
As unvelied by Mr. Michelson, this tweet was promoted by its authors on July 23, 2020. The fact of promotion was also confirmed by prominent trader Josh Rager and some accounts that claim an advertising campaign accusing Chainlink (LINK) of "pump-and dump" schemes is running even at press time.
Also, representatives of Zeus Capital LLP have slammed Coinbase CEO Brian Armstrong for the availability of Chainlink (LINK) purchasing and trading options on Coinbase and Coinbase Pro.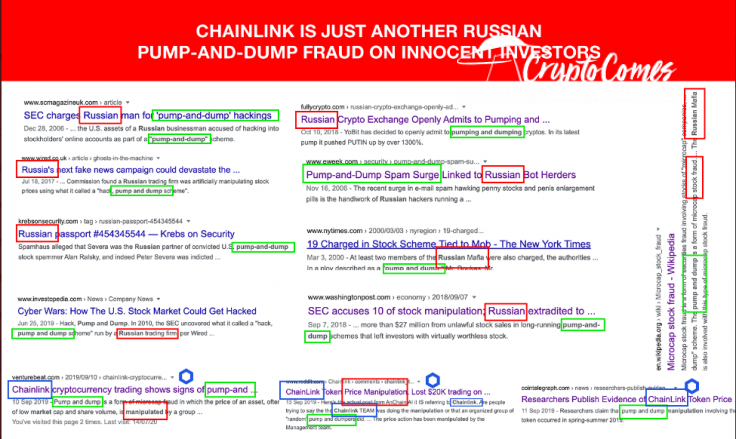 Image via Twitter
Finally, some crypto media outlets indicated that the Chainlink (LINK) ecosystem was allegedly involved in "pump-and-dump" schemes during Q3 of 2019.
Scandal gains momentum, traders remain calm
The new series of scandals with "pump-and-dump" LINK tokens started right after its impressive rally over $8,00 toward a new all-time high. A shady analytical firm that abuses the name of the U.K.-based investment corporation Zeus Capital released a report that predicts a 99% downmove of LINK's price.
On July 20, 2020, the real Zeus Capital came out with a statement to announce that it has nothing to do with any report on the Chainlink (LINK) price. Moreover, Zeus Capital:
"has no relationship or affiliation with Zeus Capital LLP whatsoever."
Traders remain moderately bullish on LINK's performance. Hedge fund manager and crypto researcher Koroush AK pays no attention to FUD reports:
"Keep it simple. We have a bullish HTF bias and currently a neutral LTF bias. Key resistance is at $8.1 and key support is at $7.1. Patience is our friend here."
Trader Teddy Cleps is certain that the most crucial level of resistance for the Chainlink (LINK) asset is $0.1 lower:
"No moon till 8 usd is reclaimed - now previous support is resistance."
At press time, LINK coin is changing hands at $7.75 on the main spot trading platforms—down 1.5% in the past 24 hours.