It has been announced by the IOHK Team behind Cardano (ADA) blockchain systems, that a brand-new version of Daedalus Wallet for the Shelley testnet environment is up and running.
Sandboxed environment for Shelley
According to a video presentation by the IOHK product manager, Darko Mijić, the new test environment for Daedalus includes all of the significant instruments of the future Shelley era of the Cardano (ADA) blockchain. With test ADA tokens, it allows users to delegate assets, launch stake pools and see the process of mining reward distribution.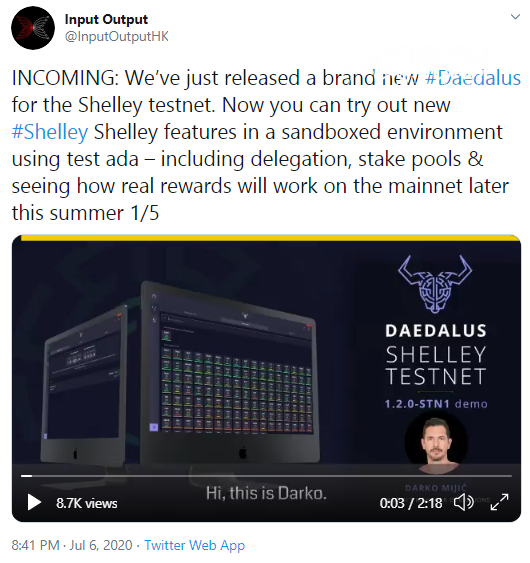 Image via Twitter
In the new Daedalus v1.2.0-STN1, the users of Cardano (ADA) can try the instruments of delegation for the first time. It is much more powerful than all of the wallet releases of Cardano ITN.
All of the validators are displayed on a single screen so the user can check the reputation of each one and choose whose reputation is credible enough to operate his/her tokens.
Developers have mentioned that the epochs in the Cardano Shelley Testnet take six hours instead of five days, which they need in Shelley mainnet. This was introduced to upgrade the speed of testing.
ADA holders should be vigilant
The IOHK team highlights that no real ADA tokens are required in the testnet environment. So, users should avoid any 'giveaways' whose organizers are impersonating 'real' Cardano (ADA) validators.
All delegation operations are carried out inside the user's wallet, so, anyone who asks to send him/her ADA tokens would be a scammer. Also, the only valid and fair version of Daedalus software can be downloaded from IOHK or the Cardano testnet site.
Recently, a group of unidentified fraudsters organized a fake presentation of the Cardano (ADA) blockchain for the richest Chinese agricultural businessmen. Charles Hoskinson, CEO of IOHK, announced that his firm has nothing to do with such presentations.