The launch of Shelley, decentralization upgrades, Project Catalyst and overall interest in top-tier altcoins push Cardano (ADA) through the roof. A number of network metrics show that interest in Cardano (ADA) has increased.
Cardano (ADA) quadrupled in one year
The Cardano (ADA) price has not been so high since late July 2018. Today, ADA trades over $0.15, which is 312 percent up YTD and 690 percent up since Black Thursday in Crypto (March 13 of this year). Meanwhile, it is still down 87 percent from its all-time high registered in January 2018.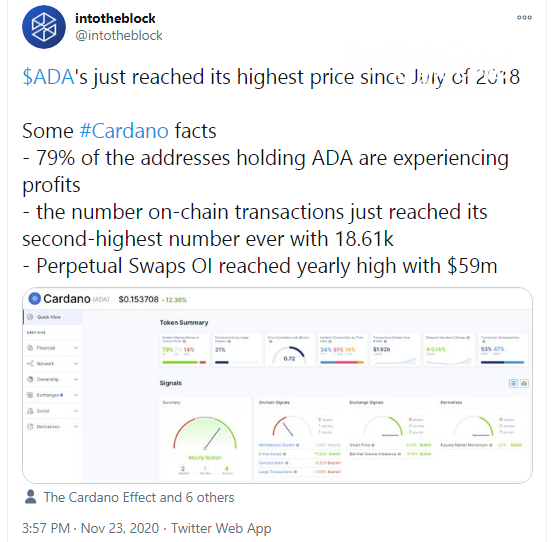 Image via Twitter
Leading on-chain data vendor IntoTheBlock stresses that this impressive upsurge is accompanied by a solid fundamentals run. First, the number of daily on-chain transactions reached its second-largest number ever with 18,610 ADA transfers.
Open interest for perpetual contracts on Cardano (ADA) token printed its yearly high at $59 million. As a result of this price upsurge, 79 percent of all ADA addresses are now in profit.
This spike of interest may be attributed to the combined effect of community building, technology and tokenomics progress.
Cardano (ADA) advances on all fronts
With the launch of Cardano staking in the Shelley era, ADA holders gained the capability of earning on their idle ADA bags. The chief scientist at Input Output Hong Kong, Professor Aggelos Kiayias, recently shared best practices for ADA delegators and validators.
With the increasing level of decentralization, more and more governance of Cardano (ADA) passes to the community. An upcoming adjustment of staking mechanisms will accelerate this process.
Also, Project Catalyst—a unique community-driven initiative tasked with the support of the best ADA-based projects—has attracted many developers and promoters. Recently, it released a native Android application in Google Play.