According to technical analyst Omkar Godbole, Bitcoin's 10 percent price surge on July 18 has put an end to its longest losing streak in 2019.

However, the bulls have to remain cautiously optimistic given that it is highly likely that they will once again face the four-digit reality.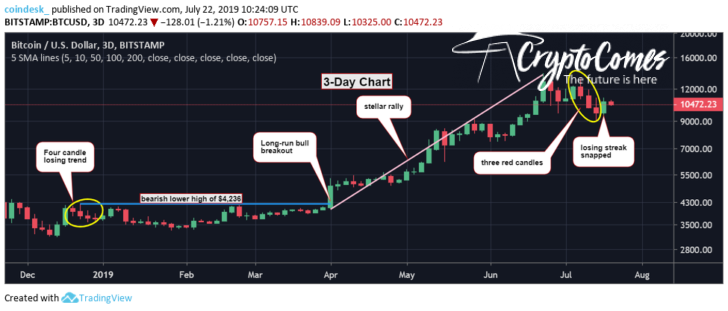 Image by Tradingview
A painful month
After selling pressure came to a head at $13,000, the price of Bitcoin started tanking and eventually ended up on the verge of falling below the $9,000 level.

This resulted in the ugliest losing streak on Bitcoin's three-day chart since December. Back then, the crypto king experienced yet another correction after bottoming out at $3,100.

As reported by CryptoComes, Bitcoin's MACD histogram went below zero for the first time in 2019, signaling a potential trend reversal.
Hold your horses
The much-coveted green candle that broke Bitcoin's losing streak might be an indicator that the BTC price is gearing up to retest this year's high, but Godbole warns that the bulls have one more challenge ahead of them.

In order to confirm the continuation of the "golden" bull run that commenced on Apr. 2, Bitcoin has to secure a break in the lower highs cycle by printing a four-hour close above $11,080. That would open the door to $12,000.

Until then, it's too early to celebrate.