Asheesh Birla, SVP of Product and Corp Devs at Ripple, has taken to Twitter to share his thoughts on recent events in the crypto sphere: the DeFi boom, stablecoins, the Bitcoin spike and also the recent ODL volume growth on RippleNet.
Banks will likely start lending crypto soon
Asheesh Birla has posted a Twitter thread stating that the crypto sphere at the moment is on a rise. As an example, he mentioned that now that U.S. banks have been allowed to offer their customers crypto custodial services, the DeFi sphere is getting a major boost—with over $5 bln in ETH now locked in and more "yield farmers" emerging.
He believes it is only a matter of time before banks start acquiring crypto custody firms and begin offering crypto lending services as they see that more and more clients are interested in DeFi.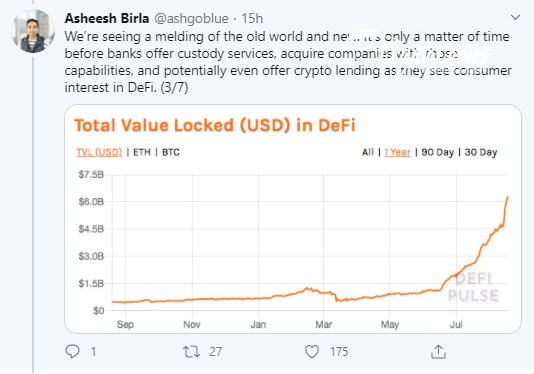 Image via Twitter
In addition, there is currently a boom in crypto futures, Bitcoin has broken above the $12,000 resistance after weeks of trading below it and the adjusted transaction value for stablecoins has reached a new ATH.
Birla has called this the aftermath of major global uncertainty regarding fiat currencies. Besides, he stated that many crypto projects are now focusing on utility and not just speculation:
Many in the crypto industry focusing on utility, beyond just speculation. Examples like Dodgecoin aside, there's a new, growing focus on an asset's use case, its tangibility.
"USD-backed stablecoins are a fascinating use case"
Ripple's SVP of Product also mentioned dollar-backed stablecoins, such as USDT, USDC and TUSD, as "another fascinating use case" for the crypto world, as they serve as a bridge between the crypto industry and the traditional sphere, providing fiat on and off ramps.
In particular, he mentioned Tether's USDT, which allows traders get into crypto without having to set up a bank account.
The Ripple top executive also spoke of centralized platforms, such as Binance and Coinbase, saying that they are still attracting traders with high liquidity volumes. Decentralized exchanges are also gaining momentum since they do not have a centralized operator.
ODL volume on RippleNet is growing
According to Asheesh Birla, Ripple's ODL product has now garnered a large percentage of the transaction volume on RippleNet: one-fifth.
He posted a chart showing major progress in the amount of transfers via ODL since Q3 of last year: in Q2 of this year, it hit the 25 percent level, rising still higher.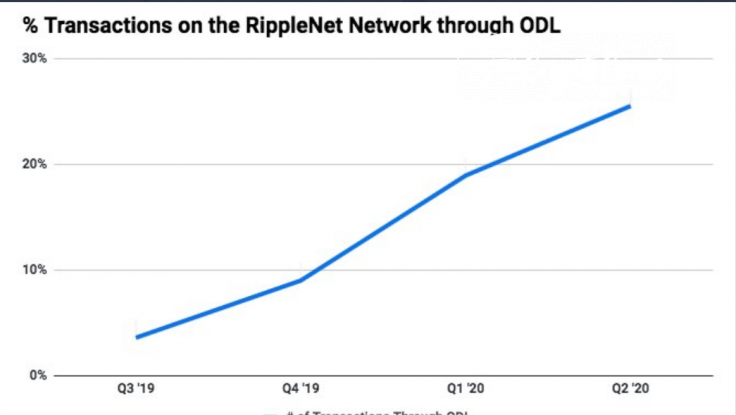 Image via Twitter