Recent data provided by Glassnode analytics firm states that the balance of the top 1% of LINK wallets have hit a two-year high, as well as LINK's Gini Coefficient.
Both say that the majority of LINK tokens is still held in a small number of wallets.
LINK's Gini Coefficient surges to an ATH
The Gini index measures the inequality of wealth (assets) distribution within a nation, a community or any other significant group of people.
For LINK, as per the recent tweet from Glassnode, this index has hit an all-time high of 0.972.
A similar metric studied by this analytics firm reveals that the percentage of LINK stored in one percent of its addresses has now reached a two-year high of 79.728 percent.
Image via Twitter
Whales are dumping LINK: Santiment
Despite the aforementioned data, another popular analytics company, Santiment, recently shared a chart which shows that whales have been disposing of their LINK bags recently and, since August 8, 24 whales have already left the network.
Those whales were among those who stored between 10 mln and 100 mln LINK.
Recently, the popular token LINK has showed a massive rally, rising to $19.10 per coin within a few weeks. At press time it is sitting at $16.45, having stopped growing after a fall.
870,680 LINK moved by whales
Despite the aforementioned data from Santiment, smaller whales remain in the network and, recently, Whale Alert detected large movements of LINK as they sent coins to Binance and to anonymous wallets.
Almost 871,000 tokens have been moved, which totals $14,466,193 at the current exchange rate of LINK.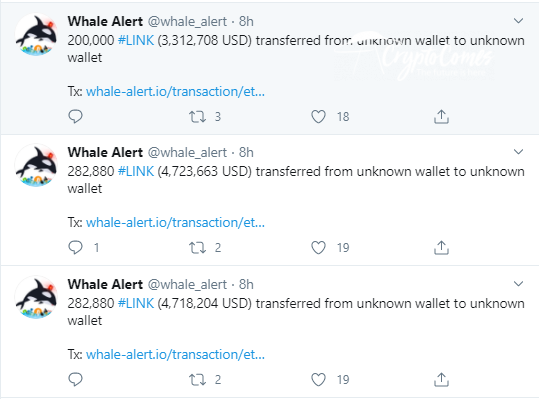 Image via Twitter
In July, the major Binance exchange expanded its list of crypto futures contracts, adding LINK futures. They are to expire on September 25 of this year.