As reported by major Twitter bot Whale Alert, over 2 blnn TRX has been transferred over the past twenty hours, totaling $75,325,136.
The Poloniex exchange has tweeted that it is experiencing major withdrawals to take part in Tron yield farming, and it seems that other players are also planning to do just that.
$75.3 mln worth of TRX wired
Whale Alert has shown that enormous transactions of TRX have been made recently, primarily by the Poloniex exchange, which has the Tron CEO Justin Sun among its major investors—read "owners."
In total, Poloniex has transferred 1,960,402,209 TRX, or $65,042,004.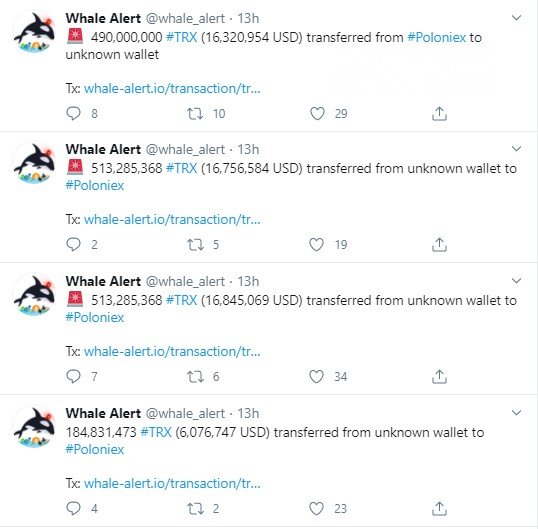 Image via Twitter
In a comment under a Whale Alert post, Poloniex stated that these mammoth-sized TRX withdrawals are happening between its own wallets and that there are likely to be more TRX transfers soon since the Tron-based DeFi is growing fast.
We are experiencing #TRX withdrawals to participate in #TRON yield farming, and are preparing 1.5 billion TRX from cold wallet to hot wallet. Please note this is an internal transaction btw exchange wallets. We can expect more fund transfers as the TRON DeFi continues to grow.
Apart from Poloniex, Binance also wired approximately 108 mln TRX, or $8,872,745.
OKEx exchange moved almost 40 mln TRX, worth $2,796,463.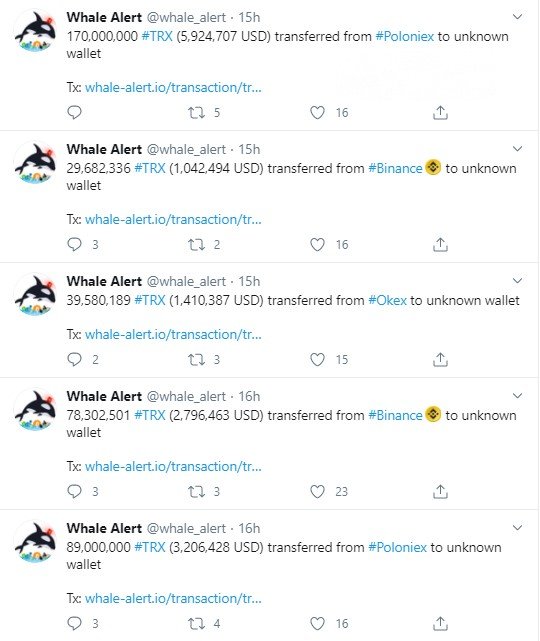 Image via Twitter
Bitfinex adds TRX for margin trading
Bitfinex CTO Paolo Ardoino has tweeted that Bitfinex launched TRX margin trading on Sept. 2.
He noted that the lending FRR APR is pretty high at the moment and constitutes 32 percent.
Yield farming craze sees Uniswap reach $1 bln trading volume
Amid the yield farming hot trend that has been spreading way too fast recently, Ethereum-based Uniswap dex has seen its trading volume surpass the $1 bln mark within twenty-four hours.
Above Uniswap came only Binance and OKEx on the CoinGecko list back on that day, with $6.25 bln and $1.10 bln respectively.
Tron-affiliated JustSwap dex has also recently shown about $200,000 of daily trading volume as per CoinGecko data.
Recently, though, some top members of the crypto community on Twitter assumed that the party that has been benefiting most from the DeFi craze is Ethereum miners due to the excessively high fees on the Ethereum chain.