Yesterday, July 18, most of the top coins showed growth against Bitcoin, but now the situation seems quite different. The major Bitcoin forks — Bitcoin Cash and Bitcoin SV — have gone down by 2% and 1% respectively. On the other hand, the cryptocurrency market capitalization has increased by more than $20 Bln due to the price rising of most of coins in correlation to US Dollar.

Cryptocurrency market cap by CoinMarketCap
Now, let's get to the chart for better understanding of the technical picture.
BCH/BTC
Our yesterday Bitcoin Cash forecast justified itself. The price dropped below the 0.030 BTC level.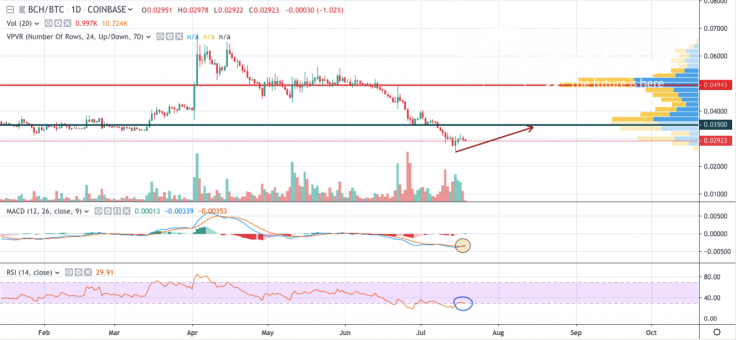 BCH/BTC chart by TradingView
On the daily chart, BCH has updated the bottom against Bitcoin, as the support at 0.030 BTC was broken. Regarding the nearest price analysis, Bitcoin Cash is likely to bounce back to the resistance at 0.035 BTC until mid August. Such analysis is supported by the MACD indicator which is about to change the trend from bearish to bullish.
The price of BCH is trading at 0.02923 BTC at the time of writing.
BSV/BTC
Bitcoin SV is showing better price movements than BCH, although its rate has reduced by around 1% over the last day.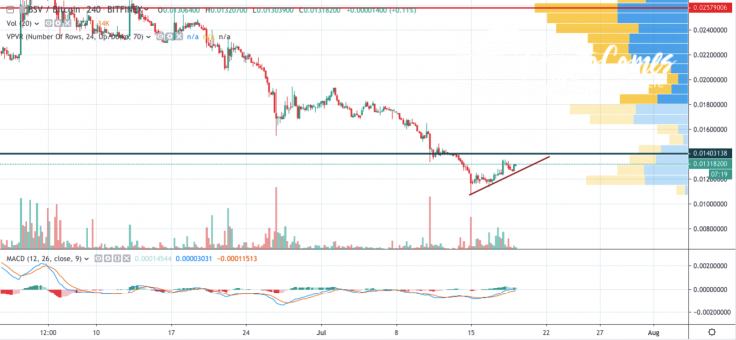 BSV/BTC chart by TradingView
On the 4H chart, BSV is trying to break the bullish trend and fix above 0.0140 BTC. In terms of the short-term scenario, the quotes might reach this resistance, however, Bitcoin SV is likely to go down afterward due to the low trading volume.
The price of BSV is trading at 0.01319 BTC at the time of writing.