Thursday, July 18 has started with the growth of major altcoins against the US Dollar. However, the price of some assets are increasing even more in correlation to Bitcoin. Respectively, the dominance index of BTC has fallen and now makes up 65.3%.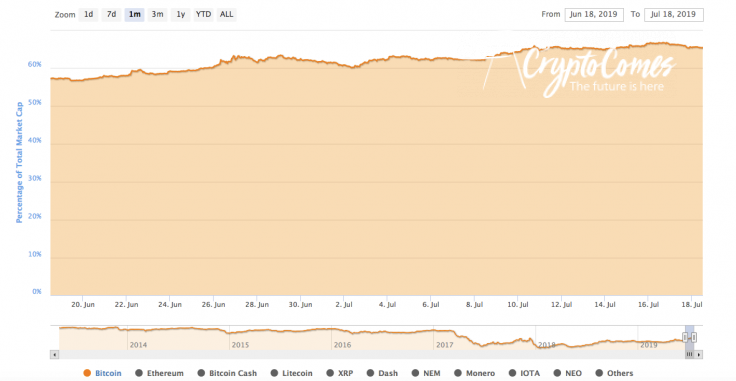 Bitcoin domination index by CoinMarketCap
Regarding the technical analysis, the picture is looking the following way.
BCH/BTC
Our earlier Bitcoin Cash prediction came true, as the coin confirmed its bullish trend to the nearest resistance at 0.03050 BTC.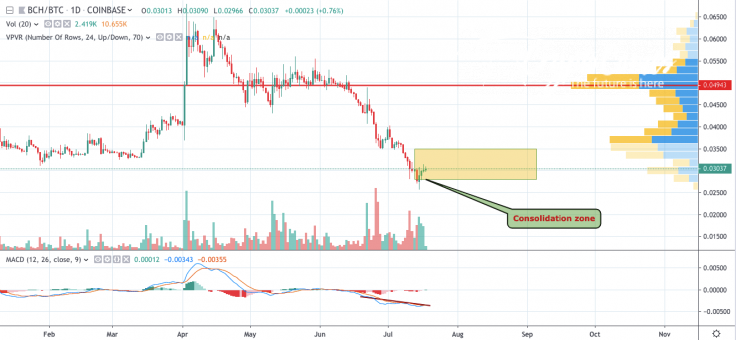 BCH/BTC chart by TradingView
Analyzing BCH against Bitcoin on the 1D chart, the asset is still located under bearish tendencies, which is confirmed by the declining MACD indicator. The nearest scenario is a consolidation in the yellow corridor between 0.028 BTC and 0.035 BTC. The price is unlikely to go higher due to the absence of traders and low trading volume.
The price of BCH is trading at 0.03037 BTC at the time of writing.
LTC/BTC
Litecoin is the biggest gainer, as its price has increased by around 15% over the last day, which is the biggest index compared to other top 10 coins.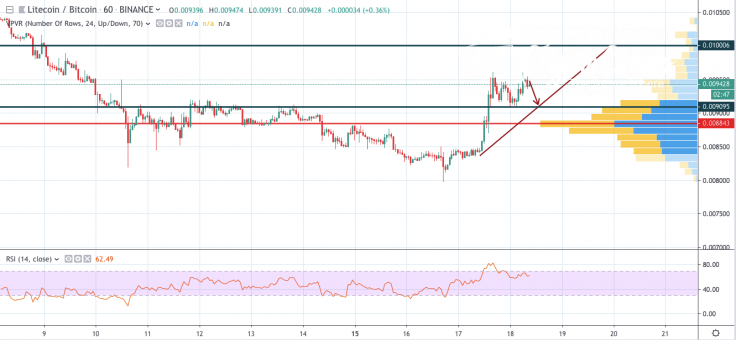 LTC/BTC chart by TradingView
On the 1H chart, LTC remains bullish trend and might reach the vital resistance at 0.01 BTC soon. The rising line of the RSI indicator confirms such a scenario. On the other hand, Litecoin might retest the support at 0.009095 BTC before moving to new highs.
LTC is trading at 0.009425 BTC at the time of writing.
ADA/BTC
Cardano is showing similar patterns to Bitcoin Cash, as its rate has increased by only around 1% over the last 24 hours.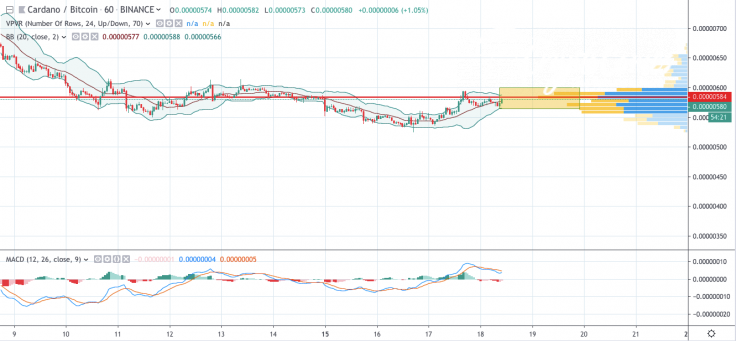 ADA/BTC chart by TradingView
ADA is located neither under bullish, no bearish mood. In terms of the nearest price scenario, traders may expect Cardano price in the range between 600 and 565 Satoshi. The MACD indicator which is in a sideways trend confirms such a forecast.
The price of ADA is trading at 581 Satoshi at the time of writing.