While the cryptocurrency market is facing a bearish trend against the US Dollar, some altcoins are showing the growth in correlation to BTC. Most of the top 10 coins are located in the green zone against Bitcoin, except for Ethereum, EOS, Bitcoin SV.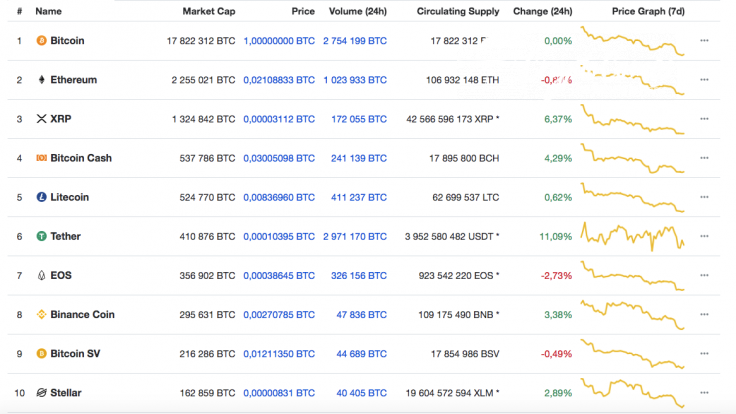 Top coins by CoinMarketCap
The rise of altcoins against Bitcoin has also influenced the domination rate of BTC, whose index has dropped by 0.5% and now constitutes 66.1%.
BCH/BTC
On the 4H chart, the rate of Bitcoin Cash has been declining since the beginning of July, breaking all support levels.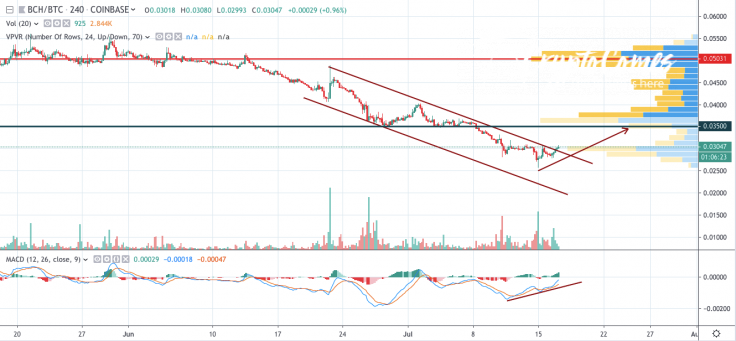 BCH/BTC chart by TradingView
According to the current situation, the asset is about to enter the recovery phase with a bounceback to 0.035 BTC. The increasing trading volume and bullish MACD indicator confirm the positive tendencies of BCH against Bitcoin.
The price of BCH is trading at 0.03047 BTC at the time of writing.
TRX/BTC
Tron confirms our recent price analysis, as it is too early to think about the reversal on the long-term perspective.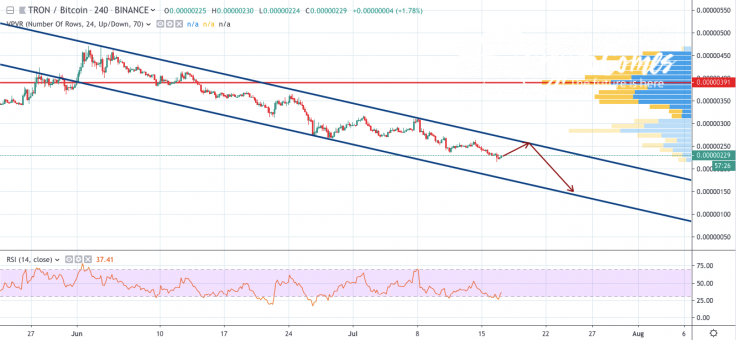 TRX/BTC chart by TradingView
TRX is not going to change its current trend, and it should expect a further decline. Although there is a rising RSI indicator on the 4H chart, the general market mood remains bearish with an upcoming downtrend to the level of 150 Satoshi.
The price of TRX is trading at 0.00000228 BTC at the time of writing.
EOS/BTC
The quotes of EOS is trading in a similar pattern to TRX, however, it has lost its position in the global cryptocurrency ranking and now located on the 7th place.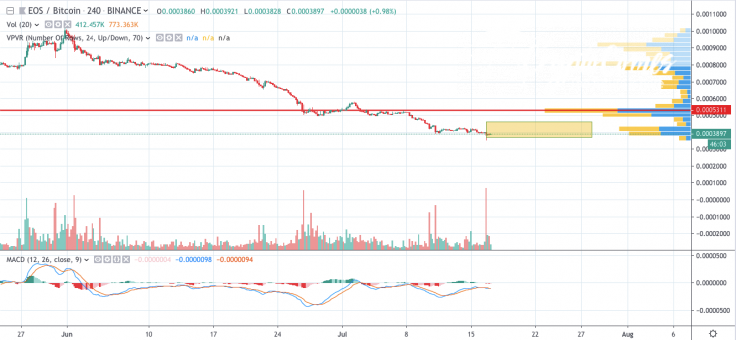 EOS/BTC chart by TradingView
On the 4H chart, EOS does not show any reasons for growth due to the relatively low trading volume. In a short-term scenario, one might expect the coin in the range between 0.00037 BTC and 0.00046 BTC.
The lines of the MACD indicator confirms such a price movement.
The price of EOS is trading at 0.0003893 BTC at the time of writing.