Deribit cryptocurrency exchange, one of the leading platforms for Bitcoin and Ether options trading, has reported a major rise in volume and open interest for Ethereum options.
Both indicators total $290 mln in value.
New record high for ETH options volume and OI
Analysts of the Deribit exchange have shared that the current peak volume in the last twenty-four hours has reached the figure of $49 mln for Ethereum options.
As for ETH open interest (OI), this indicator is currently located at the $241-mln level. That is ninety-three percent of the entire Ethereum options open interest and is concentrated on Deribit, according to the tweet.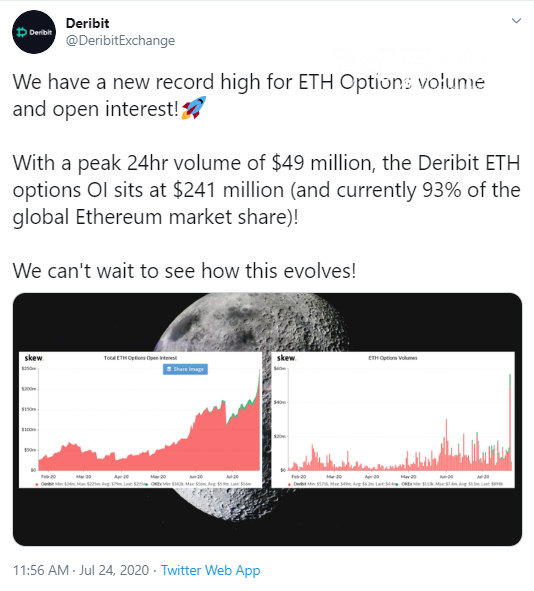 Image via Twitter
A rise in the open interest on Ethereum options signifies increasing interest by institutional investors, such as hedge funds, toward crypto assets and Ethereum, in particular.
Ethereum 2.0 public trials approaching
On July 23, the price of Ethereum printed two major spikes. The first one took ETH from $245 to the $262 area. The second rise later pushed ETH to the $275 level. At press time, the second largest crypto is trading at $272.71.
The price surges took place after the forthcoming launch of public Ethereum 2.0 trials was announced, as reported by CryptoComes previously.
The Ethereum 2.0 testnet is titled "Medalla," and it was announced earlier this week on Discord by Ethereum 2.0 developer Danny Ryan.
"Medalla" is expected to be the last stage before the much-expected Ethereum 2.0 upgrade is rolled out.
Top 100 whales move 700,000 ETH prior to price surge
On July 23, analytics agency Santiment reported that it had detected 700,000 ETH moved by the top 100 Ethereum wallets right before the ETH price spiked on Thursday. This totals approximately $182.7 mln.
These were non-exchange crypto wallets, the tweet says. It also called this transfer "pre-pump positioning & a forewarning of the pump."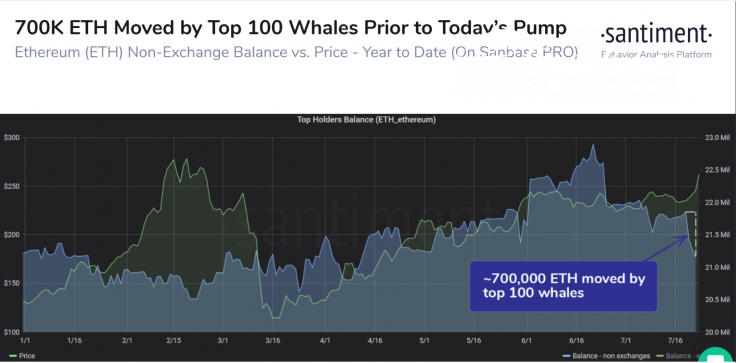 Image via Twitter