Ethereum has hit a 2-year high of $440 per coin but has reduced to $434 for now, according to the data from CoinMarketCap.
Meanwhile, the platform's fundamentals regarding ETH wallets have seen new all-time highs, as well as ETH exchange outflow metrics, as reported by Glassnode.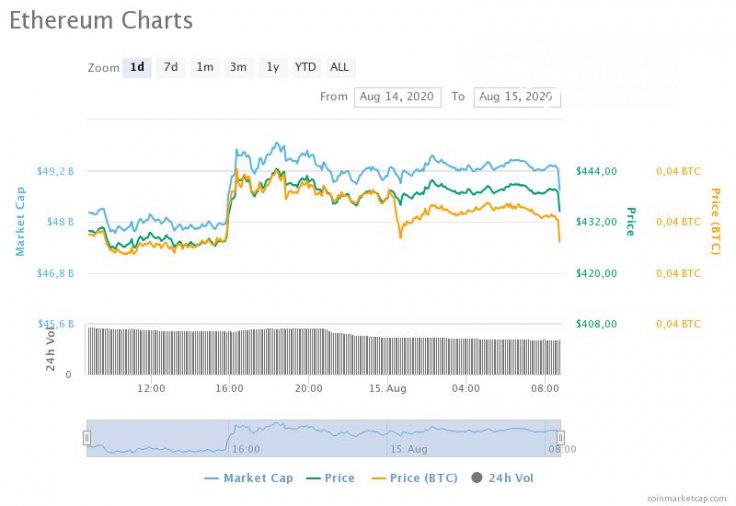 Image via CoinMarketCap
Number of ETH wallets with large holdings spikes to new ATHs
Glassnode research firm has reported that fundamentals regarding ETH wallets have improved and reached new all-time highs.
Today, the amount of wallets storing 1+ ETH has risen to a new ATH of 1,091,959. The amount of ETH addresses holding 0.01 coins has surged to 8,951,206. This metric has shown a rise by 4,731 from earlier today.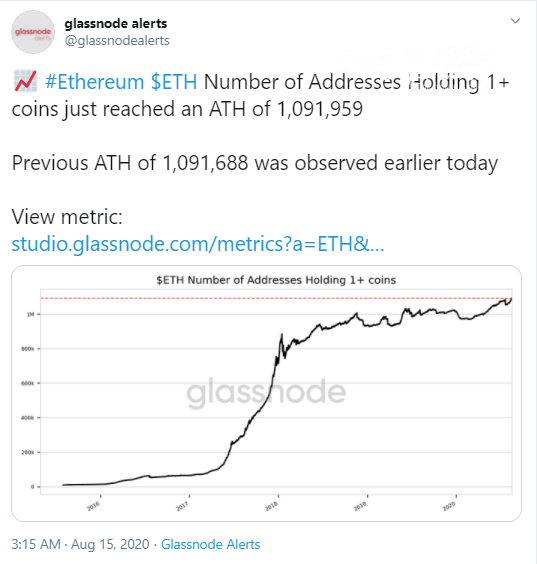 Image via Twitter
Users withdrawing ETH from exchanges, $70 mln in ETH wired by whale
More analytics data shared by Glassnode shows that users have been taking their ETH from crypto exchanges – the Glassnode metric regarding this spiked to a 19-month high of $12,092,109.46 today.
On Friday, it reached the highest value in 13-months.
Meanwhile, Whale Alert has detected that a whale transferred a mammoth-sized amount of $70,065,185 in ETH (160,296 coins) from one unregistered address to another.
On Friday, CryptoComes covered a report by DappRadar stating that the total value of ETH locked in DeFi had exceeded a whopping $5 bln and that was a likely factor to drive ETH to the new ATH on crypto exchanges.