On Aug. 6, the price of Chainlink (LINK) touched the psychologically important level of $10 for the first time in the token's history.

The ninth largest cryptocurrency by market capitalization continued to outperform the broader cryptocurrency market with an eight percent daily candle—despite being in the middle of an extensive rally.
This flies in the face of murky asset manager Zeus Capital that continues to work overtime to tank the token's price, accusing it of manipulation.
Overall, the LINK price is up an eye-popping 658 percent since March, when it hit its 2020 low of $1.36.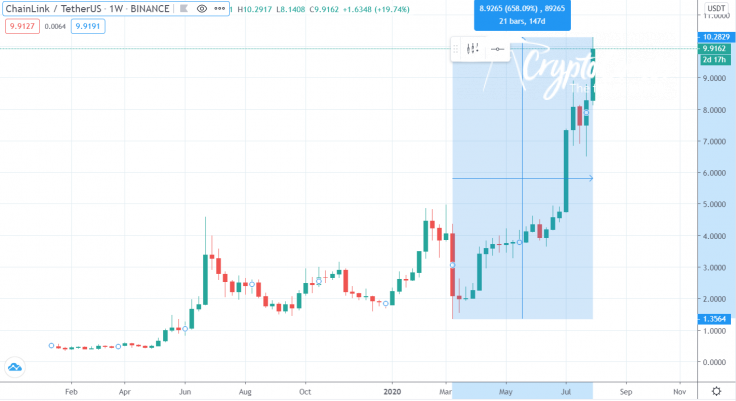 Image by tradingview.com
Chainlink's partnerships keep mounting
Chainlink provides different entities with its decentralized data oracles that allow for integrating price feeds among other use cases.

Over recent months, the project has forged a slew of notable partnerships that most likely contributed to its tremendous rally.

As reported by CryptoComes, Chainlink's technology was recently integrated by the enterprise-oriented blockchain platform Provide, a founding member of the Baseline protocol that is leveraged by Coke One North America (CONA).
The list of recent partners includes Harmony, LTO Network, GamerHash, Aave and other projects.
2020 is all about oracles
While LINK's price performance has been nothing short of remarkable, it has been outperformed by some smaller oracle tokens.

Band Protocol (BAND) and DOS Network (DOS) are up 3,296 percent and 4,125 percent on the year-over-year basis.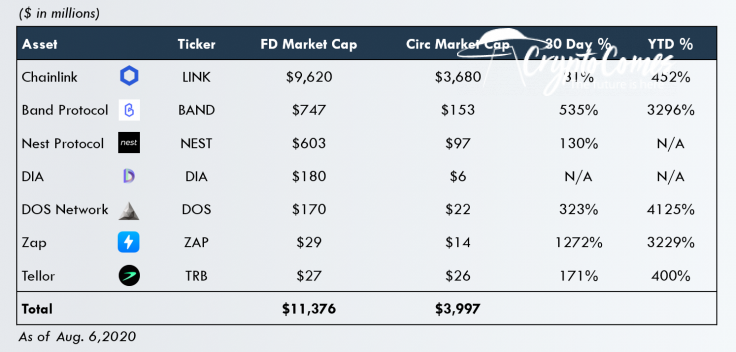 Image by @RyanWatkins_
As noted by Messari researcher Ryan Watkins, these tokens appear to be "anchored" to LINK's price:
While none have quite developed the fervent community Chainlink has, many like Band Protocol have employed Chainlink's strategy of announcing a ton of project integrations and partnerships, and they've been rewarded for doing so. Are the long-tail of oracle tokens some of the most compelling relative value plays in crypto or is the entire section dramatically overvalued?
Chainlink enjoys a first-mover advantage in the oracle game and an extensive list of partners.