Santiment, a top-tier on-chain analytical firm, reported the increasing aggression of Chainlink (LINK) withdrawals from exchanges. Over the last few months, this process has gone hand in hand with eventual whale-driven accumulation.
Holders drain liquid Chainlink (LINK) supply
According to the latest tweet by Santiment, LINK owners have been withdrawing LINK from exchanges to safe storage with increased confidence. As a result, the Chainlink (LINK) supply on exchanges hit an almost one-year low.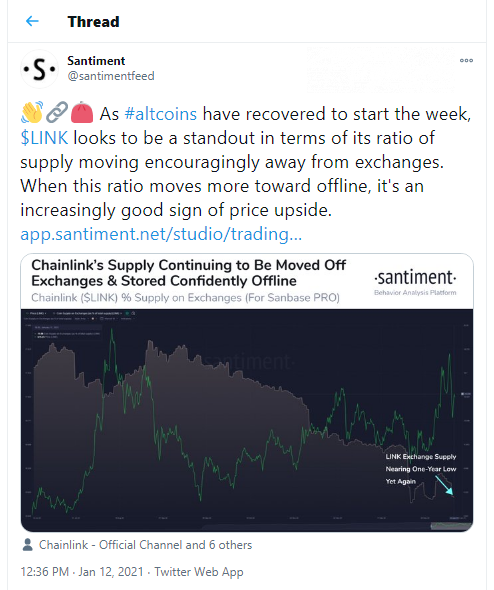 Image via Twitter
The chart shared by Santiment displays that only one in seven Chainlink (LINK) tokens is now available on exchanges. This situation may indicate the possibility of a sell-side liquidity crisis. This metric was only lower in mid-December 2020.
As covered by CryptoComes previously, the entire year of 2020 for Chainlink (LINK) was marked by confident whale-driven accumulation. The top 100 non-exchange "fat cats" have added more than 30 million tokens to their pockets.
Also, IntoTheBlock on-chain research team reported an inflow of "new money" into Chainlink (LINK) in Q4, 2020.
Correction stopped Chainlink (LINK) one step away from ATH
According to various research, both processes—accumulation and withdrawal from exchanges—were very powerful with no regard to the dramatic price moves of 2020.
The ongoing stage of crypto's bullish run brought the LINK price to a five-month high over $18.40 on major spot trading platforms on Jan. 11, 2020. To provide some context, the all-time high witnessed in August 2020 was registered at the $20.10 level.
However, the correction in September erased almost 60 percent of LINK price in 30 days only.
At press time, the Chainlink (LINK) price also slightly retraced and sits at $14.88, or down 20 percent from the local high.