According to the most recent data on Chainlink (LINK) token allocation, its top holders are very far from surrendering. On-chain analytical vendor Santiment studied the behavior of the 100 most influential Chainlink (LINK) fat cats.
Chainlink (LINK) whales go all in
In a recent tweet, the Santiment team revealed that the aggregated amount of Chainlink (LINK) stored in the top wallets has been tracked over the past year. It is obvious that whales are accumulating heavily with no regard to the turbulent price dynamics of Chainlink (LINK).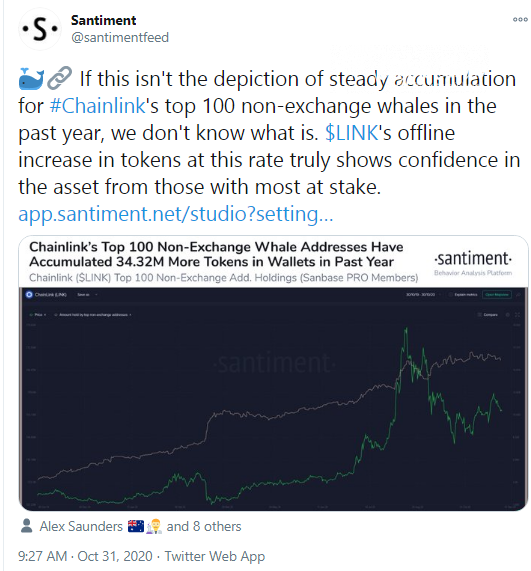 Image via Twitter
The top 100 non-exchange wallets have added 34,320,000 Chainlink (LINK) tokens to their stake in the last 12 months. On Oct. 30, 2019, approximately 735 mln tokens belonged to the 100 richest wallets.
Last year pushed this level to almost 770 mln. The aggression of the top LINK whales is stable and shows no correlation with the LINK price. The only spike in buying pressure coincided with Crypto Black Thursday. Also, whales had showed increased aggression the before LINK price touched its present all-time high over $20 in mid-August.
Meanwhile, the Chainlink (LINK) supply remains whale dominated. The Top 10 addresses (excluding contracts, liquidity pools and exchanges) are responsible for almost 15 percent of LINK's circulating supply, according to Etherscan explorer.
2020: Rollercoasters of Chainlink (LINK)
Chainlink (LINK) is the native asset of the decentralized oracles network. Chainlink (LINK) oracles are utilized in price feeds for DEXs, liquidity pools and other complex cross-asset systems.
On Jan. 1 of this year, the Chainlink (LINK) price was $1.76. During March 13, the carnage slipped to $0.01 on Binance in one moment to fill the order placed on the day of the LINK listing. Later, the administration of the exchange explained this drop by insufficient liquidity.
Q3, 2020, was marvelous for LINK holders as the asset surged almost 200 percent in two weeks. Meanwhile, the project and its token were challenged by a mysterious "Zeus Capital" firm that accused the Chainlink (LINK) team of "pump-and-dump" schemes.
September of this year was very cruel to the token as its price dropped to $7.65. This local bottom indicated the start of a beautiful ascending channel that managed to bring LINK above $11.24 at press time.