Chainlink's (LINK) price continues to rise in a multi-week ascending channel, but do its fundamentals look strong? IntoTheBlock shared some insights for "LINK Marines."
New money catalyzed LINK upsurge
According to IntoTheBlock on-chain data vendor, the recent spike of the Chainlink (LINK) price is followed by strong fundamental processes. First, the Chainlink (LINK) network is growing as new non-zero addresses are active.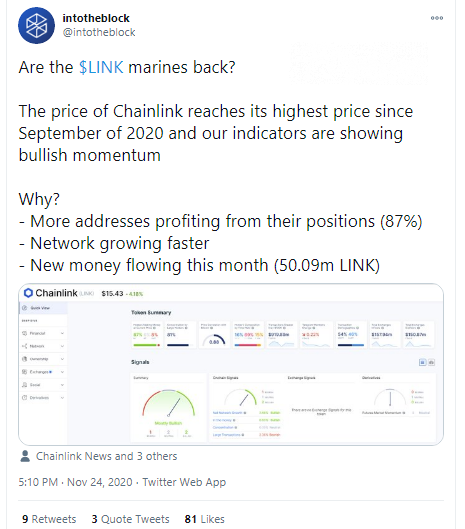 Image via Twitter
Besides an influx of new addresses, the Chainlink (LINK) network witnesses significant injections of fresh money. IntoTheBlock experts noticed 50 million in "fresh" network liquidity.
Due to the aforementioned processes, at the $15.43 price level, 87 percent of "LINK Marines" are in profit. This community is the most passionate and aggressive "army" of the entire crypto segment. Only the "XRP Army" can compete with them.
It did not take long for "Marines" to express their views on the report published by IntoTheBlock specialists. While the researchers asked whether Marines are back, LINK supporters responded negatively:
We never left. Nothing can stop what is coming.
Chainlink (LINK) almost back to late August levels
On Nov. 24, the price of Chainlink (LINK) surged above $16.23 on major spot platforms. This level is the highest since Sept. 1. Both September and October were merciless to LINK as its price dipped to $7.70 on Sept. 24, losing 70 percent in one month since ATH.
However, the Chainlink (LINK) price started to surge after the bottom was touched. As a result, it added 116 percent from September's low.
Even on its saddest days, the community refused to abandon its beloved asset. As covered by CryptoComes, IntoTheBlock's competitors from Santiment noticed that LINK whales (the 100 richest wallets) are accumulating aggressively since Q3, 2019.
As of Oct. 30, their aggregated riches surpassed 735 million LINK tokens.