Input Output Hong Kong software company, well known as the core development team behind Cardano (ADA) blockchain solutions, has introduced Mantis client for Ethereum Classic (ETC). This pack of instruments is the first-ever native ETC client designed to upgrade Ethereum Classic's performance and security.
What's in the pack?
According to the detailed blog post by IOHK's Hiamh Ahern, the new product is a set of tools created for developers, end users and infrastructure providers to interact with Ethereum Classic testnets and mainnet. Besides the client itself, it includes a wallet, a faucet and an explorer.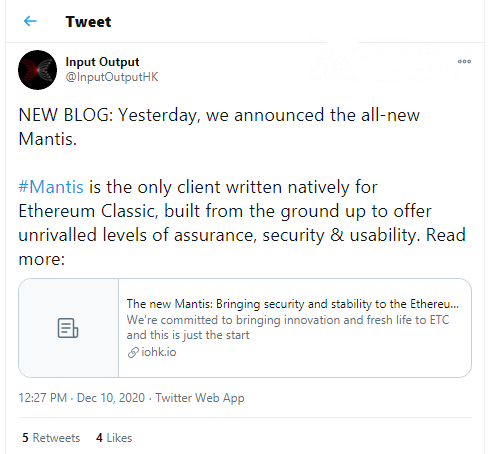 Image via Twitter
Mantis client is a command-line interface that allows peer-to-peer connection over Ethereum Classic (ETC) blockchain. With Mantis, users can authorize and receive transactions, get synchronized with the network, utilize existing smart contracts and deploy new ones.
Mantis wallet is a node wallet with graphic UI. It can work with both the mainnet and testnets (Sagano, Mordor) of Ethereum Classic. Thus, it may be useful for developers and researchers. Sandbox funds for testnets may be received from Mantis faucet.
Mantis explorer also indexes ETC mainnet and testnets displaying all activities and transactions that occur on the networks. The latest versions of all Mantis products can be downloaded from a dedicated website.
Cutting-edge features of Mantis: introducing checkpointing and proto-treasury
IOHK's team stresses that Mantis has two new functions to ensure maximum 51% attack resistance and long-term sustainability. To protect the network from malicious splits, the checkpointing function allows the system to label legitimate blocks with special "checkpoints." By labeling the blocks, a "trusted authority" within the blockchain informs miners that a certain block is the correct one and no other block should be included into the chain.
The proto-treasury strategy will collect 20 percent of miners' rewards and send ETC tokens to dedicated smart contracts. Then, the funds raised will be distributed to support ETC improvement initiatives in a decentralized community-governed manner.
Finally, the team shares its ambitious plans to reconsider network performance in terms of GPU, CPU and ASIC productivity. The implementation of an upgraded proof of work (PoW) consensus protocol and new algorithm are also on the horizon.