Whale Alert has reported that, over the past 24 hours, three gargantuan ETH transactions were made, carrying a mammoth-sized amount of funds.
Two transactions were conducted between anonymous wallets, and one took 30,000 ETH to the Binance exchange.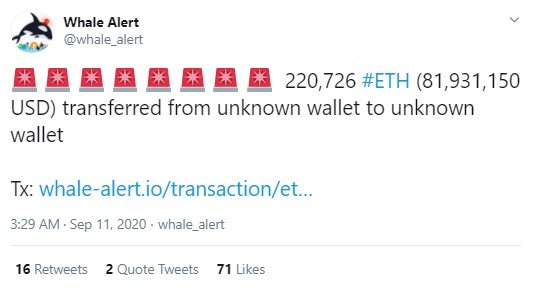 Image via Twitter
Whales transfer 220,726 ETH to Binance
Whale Alert has detected three large lumps of ETH shifted by crypto whales, totaling 320,908 in all—$118,902.442.
The largest lump was sent between anonymous ETH addresses—220,726 ETH.
A total of 30,182 ETH was sent to the Binance trading giant.
At press time, the second largest currency, ETH, is sitting at $367.20. After pulling back to a $318 low on Sept. 5 from a $437 high, ETH is gradually recovering, striving to surpass the $400 level again.
Crypto whales believe in ETH's potential
As covered by CryptoComes earlier this week, the Santiment analytics agency reported that whales are so confident in Ethereum's potential as a currency that, in August, they increased their ETH bags by 84 percent.
In making that analysis, Santiment looked at the top non-exchange ETH wallets. The amount of ETH stored in those addresses surged from 3.16 mln to 5.80 mln ETH.