July 23 has started with one more cryptocurrency market dump. Most of the top coins are going down in correlation to US Dollar.
The biggest day loser is Binance Coin whose rate has dropped by more than 5% over the last day. In this regard, the total market capitalization has lost $10 Bln and now constitutes $267 Bln.

Cryptocurrency market cap by CoinMarketCap
However, some cryptocurrency are looking positive against BTC.
BTG/BTC
Bitcoin Gold has shown the biggest price decline out of the top 50 coins. Its rate has decreased by around 10% over the last day.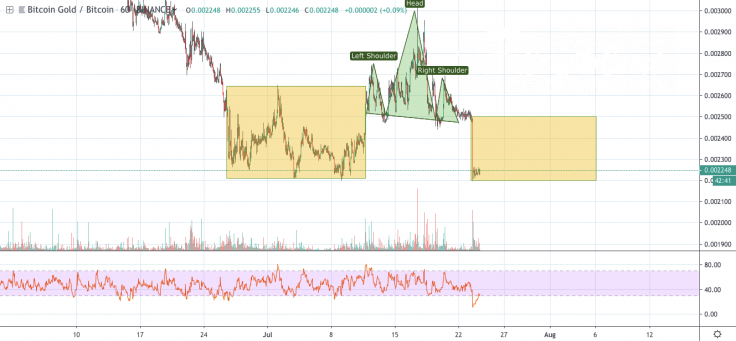 BTG/BTC chart by TradingView
On the 1H chart, BTG is facing a downtrend, and the coin has lost 10% of its price once the Head and Shoulders pattern is formed. Although today's price decline is considered a dump, Bitcoin Gold is not likely to recover fast.
The RSI indicator is going up, suggesting that sellers have not left the market yet. In this case, the price will locate in the yellow corridor until the first days of August.
The price of BTG is trading at 0.002448 BTC at the time of writing.
BAT/BTC
Basic Attention Token is showing much more positive price trend than Bitcoin Gold, as its rate has almost not changed since yesterday.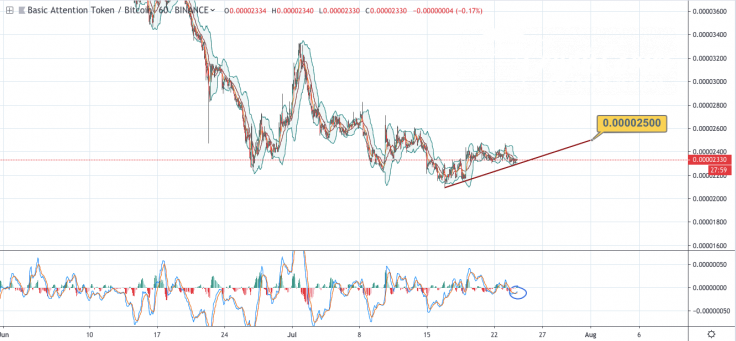 BAT/BTC chart by TradingView
On the hourly chart, BAT is trying to get out from bears' dominance and reach the nearest resistance at 0.000025 BTC. The technical patterns also indicate the possible bounceback.
Mainly, the lines of MACD have changed from bearish to bullish. Respectively, the level of 2500 satoshi might be achieved until August 1.
The price of BAT is trading at 0.00002330 BTC at the time of writing.
ZEC/BTC
Zcash is the only coin from our list which is located in the green zone. Its rate has gone up by 1.7% over the last 24 hours.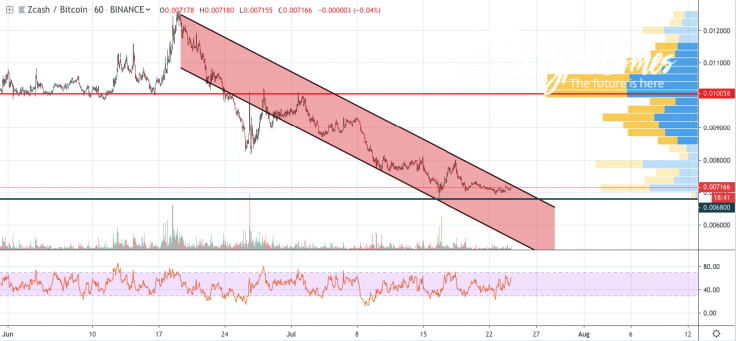 ZEC/BTC chart by TradingView
From the technical point of view, the price is not going to recover due to the rising RSI indicator. Moreover, the trading volume keeps decreasing, suggesting the upcoming decline to the support at 0.0068 BTC.
The price of ZEC is trading at 0.007166 BTC at the time of writing.