ZB.com, a Swiss-incorporated cryptocurrencies exchange launched back in 2013, reveals that it will support Spark token distribution. As a result, its XRP holders will take part in the Flare fork "hello world" event.
Another day, another platform supports Spark airdrop
Today, Nov. 20, multi-purpose cryptocurrency platform ZB.com has shared an announcement regarding the much-anticipated Spark airdrop. All XRP holders who use ZB.com as a custody for their riches are eligible now for seamless distribution of Flare's core asset.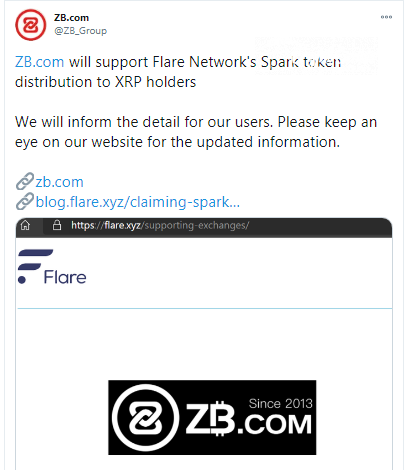 Image via Twitter
Detailed instructions on how Spark tokens should be claimed through ZB.com mechanisms will be released by the platform team soon.
This release by ZB.com is an important one for the XRP Army since the XRP/USDT pair is among the most popular on this exchange. A total of $31 mln were processed with this pair during the last 24 hours. XRP pairs are surpassed only by BTC, LTC, ETH and EOS pairs on ZB.com.
Founded in 2013 as CHBTC.com, ZB.com has onboarded more than 10 mln clients. After the infamous Chinese crypto ban came into effect, the platform was rebranded with its actual name and moved its operations from the P.R.C.
When Revolut?
Besides being a cryptocurrency exchange, ZB.com also delivers the services of staking pools, crypto-to-fiat conversion, lending/borrowing instruments, crypto deposits for passive income and EOS block production.
ZB.com is ranked #60 by Binance's CoinMarketCap based on trading volume with 135 active markets and $734 mln in daily turnover.
While the XRP Army highly praised ZB.com's support of Spark airdrop, some of its "soldiers" are still guessing whether the top platforms are ready to take part in XRP fork creation.
As covered by CryptoComes recently, Korea-based Bithumb is the only platform from the Top 5 that allowed its XRP holders to claim Spark seamlessly. The XRP community, however, is calling for Binance, Bitstamp and Revolut to consider adding support for this overhyped airdrop.