Another top-league cryptocurrency exchange from South Korea has joined the team of Spark airdrop supporters. Meanwhile, organizers of Flare fork has shared an important announcement for users of on-chain XRP wallets.
Coinone exchange to support Spark airdrop
According to the official announcement by the Flare Networks team, top-tier exchange Coinone will assist its XRP holders in claiming Spark tokens. This announcement is a crucial one as Coinone is an influential provider of Korean Won (KRW) liquidity to crypto markets.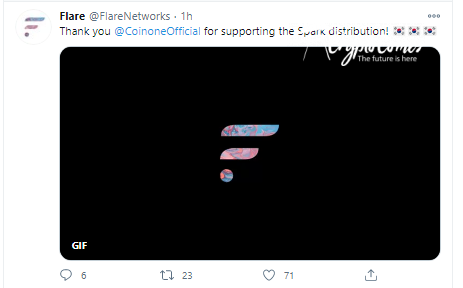 Image via Twitter
At press time, Coinone is ranked #22 in Binance's Coinmarket trading volume ranking. Almost 30 percent of its turnover (or $53 million in the last 24 hours) is attributed to the XRP/KRW pair.
Also, Coinone processes a massive amount of KRW liquidity in pairs with Bitcoin (BTC) and Ethereum (ETH). Launched in June, 2014, Coinone has 130 active markets with about $190 million in total 24h trading volume.
Coinone is the second most powerful Korean exchange to support Spark airdrop. As covered by CryptoComes previuosly, Bithumb also assists in this initiative.
Bithumb's announcement marked the start of Flare fork recognition by top-notch exchanges. According to Flare Networks, Bitstamp is also considering Spark airdrop support. Negotiations with Binance and Kraken are in progress.
Update for self-custody XRP holders
Flare Networks released a clarification for all XRP holders who decided to store their riches without centralized custody, in on-chain services like XUMM and XRP Toolkit. Such users have an option to claim Spark tokens until June 11, 2021:
Reminder: If you self custody your XRP then you have until 11th June 2021 to make your Spark claim.
Meanwhile, the snapshot for them will be made on Dec. 12, just as for the users of the exchanges.
As CryptoComes reported, XRP Toolkit amazed the XRP Army with a Flare-friendly software release. It allows users to see the 0x-address on Flare attributed to XRP Ledger's account.



Once a user confirms Spark claiming by adding a special message, his/her 0x-address is displayed in the XRP Toolkit account.