Cryptocurrency exchange Binance has partnered with Canadian blockchain software developer Blockchain Foundry to issue its Binance USD (BUSD) stablecoin on the Syscoin blockchain, according to a recent press release.

Binance will utilize Blockchain Foundry's fully decentralized Syscoin-Ethereum bridge that was launched back in January.

Bridging Ethereum with Syscoin
BUSD is a USD-pegged cryptocurrency whose market cap now surpasses $175 mln. While this might seem like a drop in the bucket compared to Tether (USDT), a $10 bln cryptocurrency, it is worth noting that it has been less than a year since BUSD's launch.

Binance's stablecoin was initially issued on the Ethereum blockchain and can be used for value transfers on Binance Chain (the company's native blockchain).

The fact that Ethereum is nearing its full capacity, with gas fees surging through the roof, may be behind the move to Syscoin.

The Syscoin network is believed to be able to process up to 60,000 transactions per second (TPS).
Blockchain Foundry CEO Dan Wasyluk says that the bridge will be able to make BUSD transactions scalable and cheap:
"The Syscoin Ethereum bridge was designed specifically to help provide Syscoin's benefits of fast, scalable, and low-cost transactions to tokens on other blockchain platforms. We're excited to partner with Binance to demonstrate the platform benefits and cost savings this technology can bring to BUSD and other ERC-20 projects."
The SYS price surges
The price of the SYS token jumped almost 50 percent upon this news before giving up some of the gains, CoinMarketCap data shows.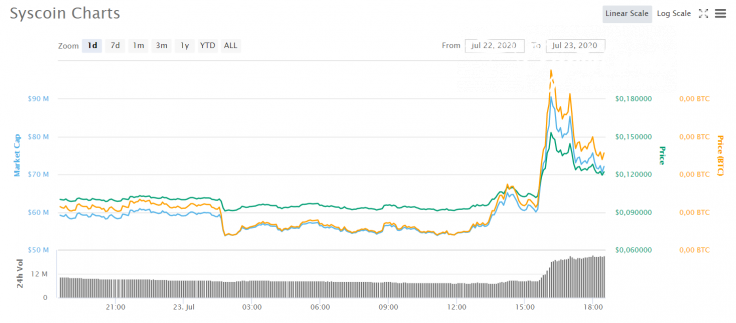 Image by coinmarketcap.com
In its tweet, Syscoin claims that this partnership is "only the beginning," adding that the project's team is working hard behind the scenes to boost adoption.