The Dutch-based analyst and trader Michael van de Poppe has shared his take on where the XLM price is heading as the coin is pumping higher than sixteen percent on CoinMarketCap at the moment.
Stellar is rising almost 17 percent
At the time of writing, Stellar is pumping 16.81 percent, being the top-performing cryptocurrency on the top-twenty list on CoinMarketCap.
Other popular altcoins that have been holding the attention of investors and traders recently – LINK and Dogecoin – are hardly showing a growth over 8 percent (with LINK rising only 0.39 percent).
DOGE, after its recent surge of more than a hundred percent is currently printing a 7.51-percent rise.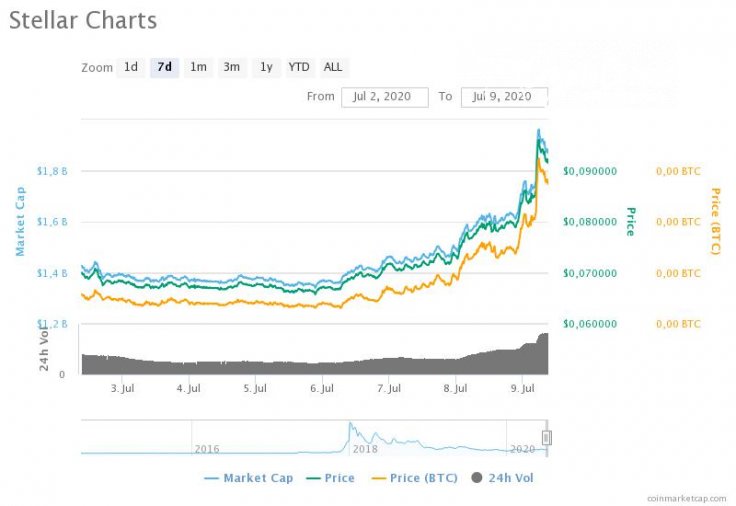 Image via CoinMarketcap
XLM is heading for 1200-1500: 'Crypto Michael'
Prominent full-time trader and analyst from Amsterdam Michael van de Poppe (aka 'Crypto Michael) has taken to Twitter to publish his analysis of the XLM price movements.
The analyst reckons that XLM is targeting the 1200-1500 Satoshis level (equal to $0.113 - $0.141) and even potentially hit 2000-2200 Sats ($0.188-$0.207).
However, the expert mentioned that the coin is likely to retest $0.080-$0.083 (850-880 Satoshis) first.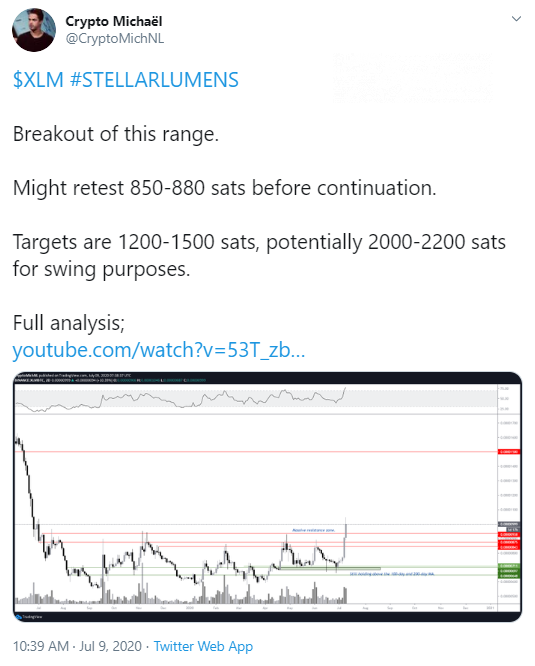 Image via Twitter
Twitter user Josh Olszewicz has told his 119,000 followers that DOGE is not the only coin that is rising at the moment.
On Wednesday, the DOGE price suddenly spiked over 100 percent due to the viral TikTok videos.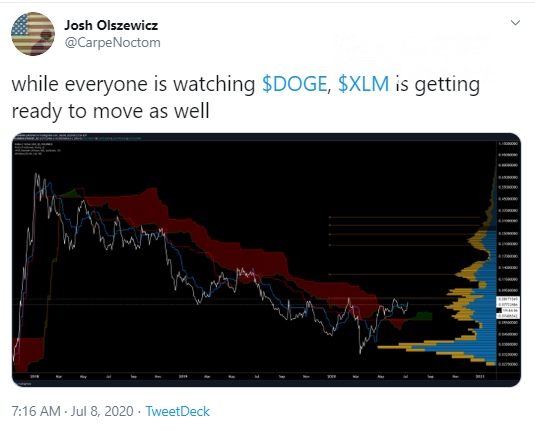 Image via Twitter