The amount of value locked in Ethereum-based decentralized financial protocols (DeFis) takes a breath in the shadow of a surprising Bitcoin (BTC) rally. However, one more record has been registered within this segment.
DeFi sector is eating Ethereum (ETH)
IntoTheBlock, a research firm that leverages the potential of machine learning to deliver valuable crypto insights, has noted yet another upsurge in one crucial DeFi metric.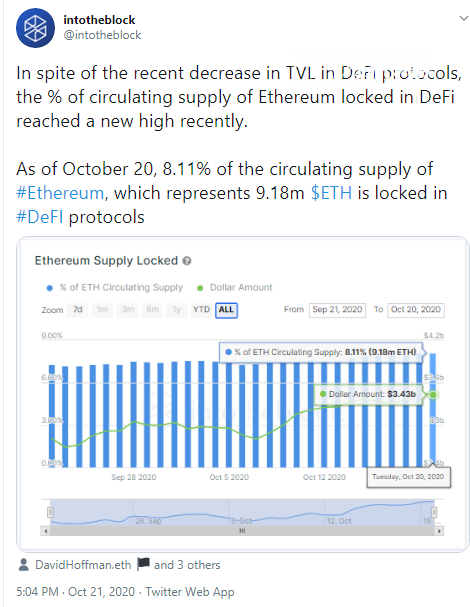 Image via Twitter
According to the most recent statistics shared by analysts in their tweet, 8.11 percent of the net circulating Ethereum (ETH) supply is allocated in various Ether-based protocols. In raw numbers, this is equal to 9.18 mln Ethers.
DeFi users "freeze" their Ethers to participate in "yield farming" strategies, earn interest on lending/borrowing protocols and provide liquidity for decentralized exchanges.
According to DeFi Pulse, a well known decentralized finance explorer, the net amount of value locked in DeFi has slightly retraced from its all-time high and now sits at $11.27 bln. Ethereum (ETH) is the most popular blockchain for DeFi hosting so far, followed by Tron (TRX) and Eos (EOS).
Will this segment resume its growth?
Typically, the DeFi segment is referred to as a technology in its infancy. Thus, most experts are certain that all metrics of value in the DeFi sphere will only rise further.
Meanwhile, seasoned investor and analyst Dovey Wan of Primitive Ventures admits that DeFi lacks a solid monetary base for prolonged growth. She stresses that only $1 bln has come to DeFi "from nowhere," while all other money has been gathered by experienced traders via centralized exchanges like Huobi, BitMEX, Binance and OKEX.
According to Wan, the DeFi "bubble" will not be as monstrous as ICO's was in 2017. By contrast, other prominent experts like Blockstream's Samson Mow and Qiao Wan, formerly of Messari, treat DeFi hype like the new ICO. Wan is even certain that, this time, the euphoria will not calm down for 10-20 years.