Analytics company Glassnode has reported that the percentage of Bitcoin addresses in profit has hit a 1-year high and now amounts to 92.930 percent.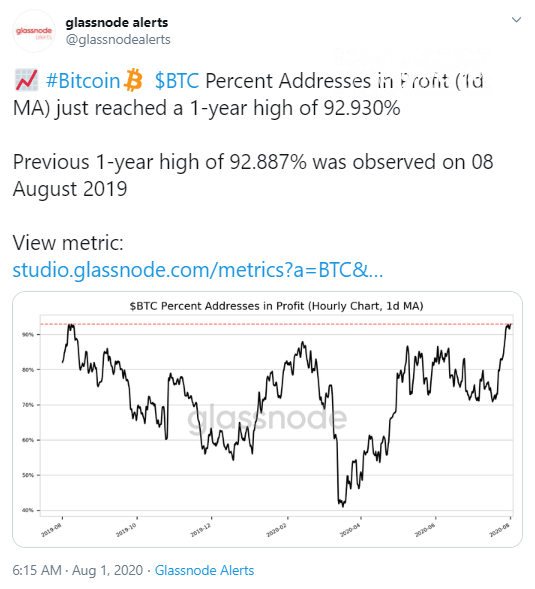 Image via Twitter
New yearly high follows the Bitcoin surge
Previously, an 83-percent high was achieved on June 23, when the number of profitable Bitcoin addresses appreciated 43 percent after dropping to a 45-percent low on March 20 following the Black Thursday.
It happened on March 12, when Bitcoin lost around 50 percent of its value in just twenty-four hours and scared the crypto market to death.
At press-time Bitcoin has taken a new high and is trading slightly below the $12,000 with the community expecting BTC to cross it any time.
Glassnode points out that the previous 1-year high regarding profitable Bitcoin addresses was recorded almost exactly a year ago – on August 8 2019. It then was 92.887 percent.
Back then, Bitcoin was exchanging hands at $11,857 – only slightly different to the current rate of $11,656, a CoinMarketCap chart says.
The market is getting too high
Anything close to the 95-percent line signifies that Bitcoin has been overbought, meaning that the flagship crypto has surged quickly and unexpectedly and a drop soon is possible, since investors and traders are likely to start locking in their gains.
Last year after the peak reached on August 8, Bitcoin started going down and stayed below $10,000 until February 12 2020.