Glassnode analytics supplier has published several tweets, revealing that over the past twenty-four hours, LTC median transaction volume has surged almost thirty percent.
Other on-chain fundamentals have risen for the Litecoin network too.
A likely inflow of new users
Litecoin has seen a rise in newly registered addresses: a new four-month high of 2,293.458. Glassnode says that a previous increase over the same period was recorded on July 30.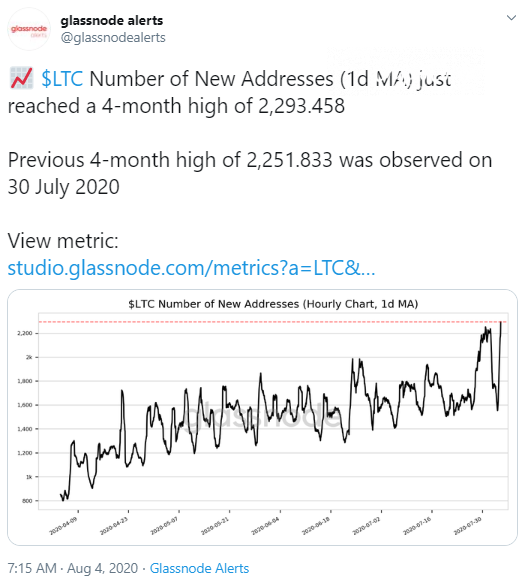 Image via Twitter
Now that altcoins are on the rise, following the surging Bitcoin, cryptocommunity members and crypto investors seem to be turning to Litecoin again and setting up new wallets for the "digital silver."
These addresses contain a certain amount of LTC, since Glassnode has described them as "non-zero" accounts.
LTC median transaction volume soars 29.5%
Glassnode also shared that two other on-chain fundamental metrics have surged. The size of a median LTC transfer volume has increased 29.5 percent over the past twenty-four hours. It now totals 1.363 LTC.
A rise has also been noted in the number of LTC transactions in the past twenty-four hours. Presently, the number of Litecoin transfers equals 1,733,583—an increase of 22.5 percent.
Grayscale rolls out LTCN product for OTC trading
As CoinDesk reported recently, the major Wall Street investment fund Grayscale—famous for aggressive purchases of Bitcoin and Ethereum this year—has finally solved the regulatory issues regarding its new products, Bitcoin Cash Trust and Litecoin Trust.
The company has been recently developing digital asset-based trusts to allow retail investors to gain access to cryptocurrencies. Prior to LTC and BCH, Grayscale offered its customers trusts based on Bitcoin, Ethereum Classic and Ethereum.